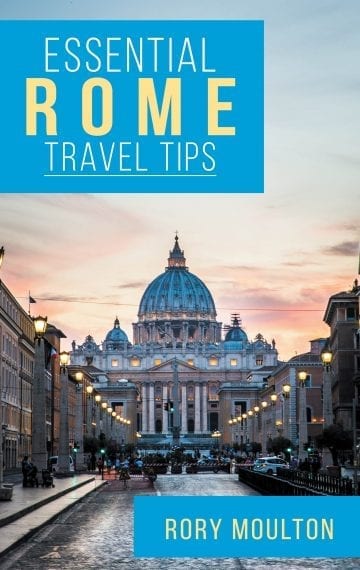 Now Available!
$6.99
Publisher:

EuroExperto

Edition:

1
Buy on Amazon
Quit dreaming about Rome and start planning!
**Updated for 2020**
Save money, beat the crowds and learn about Rome's coolest "secret spots" with Essential Rome Travel Tips.
In Essential Rome Travel Tips, I dispense my very best advice for traveling Rome, Italy. Gleaned from over 20 years of traveling to the Eternal City, my tips and advice will help you plan the perfect Rome getaway. You'll learn how to skip crowds, find the city's best values and experience Rome more like a savvy local than a bewildered tourist. Whether it's your first time in Rome or you're back for more, this book will teach you something new.
Chock-full of Rome travel tips from a longtime Rome visitor and veteran travel writer, this Rome travel guide covers:
Tips on how to avoid long lines in Rome.
Insight on how to make the most of Rome's museums and attractions.
Advice on how to beat Rome's crowds and have the coolest Rome experiences.
Plus, tons of Rome sightseeing and eating tips!
Essential Rome Travel Tips offers Rome travelers invaluable advice on how to make the most of a Rome vacation. Essential Rome Travel Tips includes little-known nooks and crannies in Rome, quintessential dining experiences, travel hacks for skipping lines and saving time and money and everything you need to know for an awesome Rome experience — condensed into the most important travel tips for Rome. It's all the Rome Italy travel information you'll ever need.
This is the third book in the Essential Europe Travel Tips series.