The United Nations World Tourism Organization released data on Jan. 28, 2021 that officially cements 2020 as modern history's worst year ever. Well, okay, worst year FOR TOURISM ever.
And nobody's surprised.
The covid pandemic shattered the tourism industry, grounding airplanes, shuttering attractions and hotels and obliterating restaurants. However, the scope and scale of the worldwide tourism shutdown has, until these numbers were released, been a subject of speculation or only viewed through the lens of a single country or tourism board.
2020 Tourism Numbers: The Lowlights
Well, the global numbers came in and they're shocking. The devastation was widespread, resulting in the worst year of travel ever. A total lost year of travel. Here are some lowlights:
"International arrivals dropped by 74%."
"Destinations worldwide welcomed 1 billion fewer international arrivals in 2020 than in the previous year."
"…loss of USD 1.3 trillion in export revenues – more than 11 times the loss recorded during the 2009 global economic crisis."
"…100 and 120 million direct tourism jobs at risk."
2021 Recovery… Or Not
Will 2021 bring a recovery to the tourism sector? As a travel writer, I certainly hope so. I'm cautiously eyeing a return to travel in the fall, perhaps as early as September. I won't play amateur epidemiologist, but I have faith vaccines and herd immunity will allow a reopening sometime this year.
I don't foresee a full recovery, however, until 2022 or even 2023 as mutant strains continue wreaking havoc, vaccines roll out and people stay closer to home out of an abundance of caution.
Here's what the UNWTO survey says about the recovery, which reveals percolating pessimism amongst travel professionals:
"50% of respondents now expect a rebound to occur only in 2022 as compared to 21% in October 2020."
"…most experts do not to see a return to pre-pandemic levels happening before 2023."
"43% of respondents point to 2023, while 41% expect a return to 2019 levels will only happen in 2024 or later."
"UNWTO's extended scenarios for 2021-2024 indicate that it could take two-and-a-half to four years for international tourism to return to 2019 levels."
The European Tourism Recovery
That's well and good. Actually, not good at all. But it's one thing to look globally, where developing regions will struggle to acquire and inoculate their populations which will lead to a slower tourism recovery.
But what about Europe?
That's my forte and why you're here. European travel is our primary concern. My hope is Europe beats back these new strains, delivers vaccines throughout the EU by early summer and conducts the Grand Reopening by June or September at the latest.
The survey respondents agree, mostly — a rebound and reopening in fall 2021 and a full recovery by 2023.
When do you expect a rebound in international tourism in your country?
When do you expect international tourism to return to pre-pandemic 2019 levels in your country?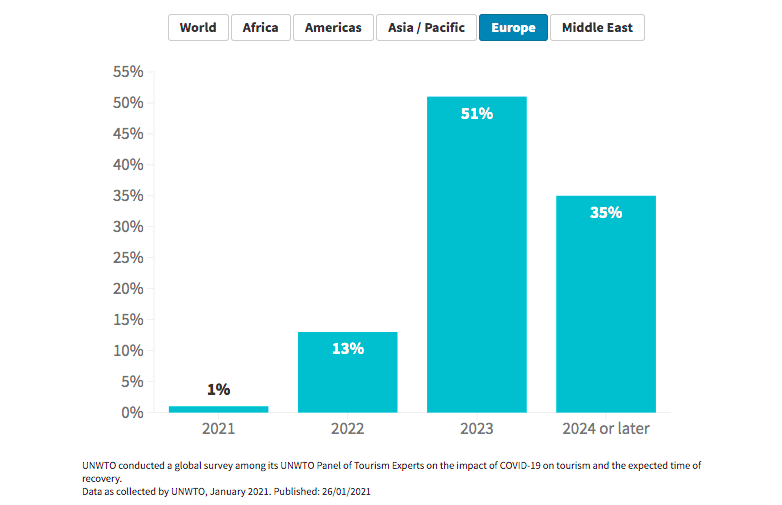 Read the full report here and sign up for my free newsletter to stay informed on Europe's Great Reopening. Coming in 2021! Or 2022! Or maybe 2023?