So, fellow globetrotter, how long have you been waiting for your Global Entry interview?
Me? Eight months.
Or, more precisely, eight months, 12 days and five hours.
Well, truthfully, that's how long I would have waited for my Global Entry interview when I originally booked it in May 2022. Brutal, eh?
"Would," however, is the operative word here.
You see, after a two-hour stampede through immigration in Chicago-O'hare airport upon my return from France a couple of weeks ago, while jealously eyeing the Global Entry holders gliding through the automated border-crossing process and just barely making my connection to Denver, I decided to find a better way. With another trip to Europe fast approaching, I wanted back in the Global Entry clique.
I simply had to find a closer appointment. Hacks, software, long-lost cousins who work for border control, anything but mindlessly clicking refresh on Global Entry's online appointment scheduler (ain't nobody need carpal tunnel for that).
And I found it. A much, much better way to schedule your Global Entry interview.
After just a five-minute, pain-free signup process at Appointment Scanner and $29 later, I had rebooked an interview six days away. Literally, minutes after signing up with Appointment Scanner, I had shaved over eight months off my wait time.
I'm going to tell you how I did it (yes, it's totally legit and legal), and how you can, too.
But before diving into this "hack," which really isn't a hack at all but rather a service, let's review what Global Entry is and how the renewal process works and see if Appointment Scanner is right for you.
What is Global Entry?
Global Entry is a government program that allows pre-approved travelers to go through a faster, fully-automated immigration control when returning to the United States. After a $100 payment, successful completion of a background check and in-person interview, you can skip immigration lines and check back into the US through automated kiosks.
When I had Global Entry, I rarely had to wait more than a couple minutes for a kiosk. The kiosk check-in, which scans your passport, takes your photo and spits out a receipt, takes only a few minutes.
If you travel internationally more than once a year or simply hate waiting in excruciatingly long lines or want to ensure you never miss a connection when returning States-side, then Global Entry is for you.
What is Appointment Scanner?
Appointment Scanner is a new service that assists with one key aspect of the Global Entry application process — the interview. Interview appointments at enrollment centers (usually airports) are booked over six months in advance.
Occasionally, a cancellation or rescheduling frees a time slot. But you'd have to sit on the scheduling website hitting refresh all day long to find one of these rare openings. Essentially, Appointment Scanner does the refreshing for you and looks for openings up to a specific date you set. It finds these last-minute openings and texts and/or emails you with the date and time. Then it's on you to race to Global Entry's interview-scheduling portal and grab the appointment.
Are You Eligible for Appointment Scanner?
If you're conditionally approved for Global Entry or Global Entry renewal and have access to the online trusted-traveler scheduling portal (https://ttp.cbp.dhs.gov/dashboard), then Appointment Scanner can help you. If you've applied and are still awaiting conditional approval or haven't started the application process yet, then hold off on Appointment Scanner until it's time to schedule your interview.
How Does Appointment Scanner Work?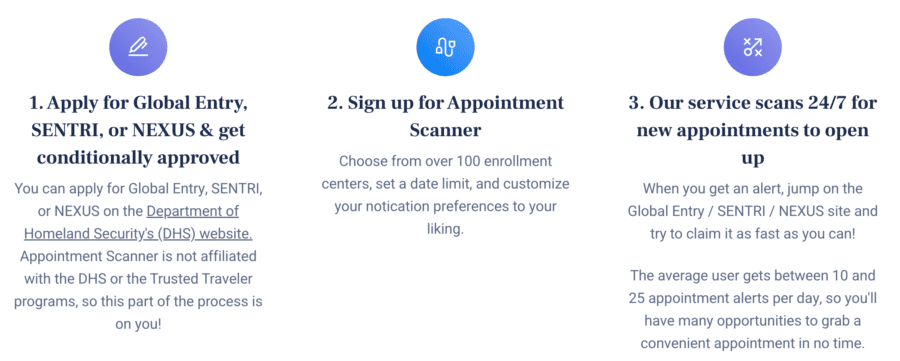 The above screenshot, gleaned from AppointmentScanner.com, pretty much sums up the simple process. Once you're ready to schedule your interview appointment for Global Entry, sign up for Appointment Scanner, pick your closest three enrollment centers and select the latest appointment date you want notifications for.
Then the fun begins. Keep the trusted-traveler site (https://secure.login.gov/) open in a browser tab. Since the scheduling portal will kick you out after a few minutes of inactivity, I found it's fastest and easiest to click the login button, then "consent and continue" and leave the login page open. Fill in your login details but wait to click "Sign In" until receiving an alert from Appointment Scanner.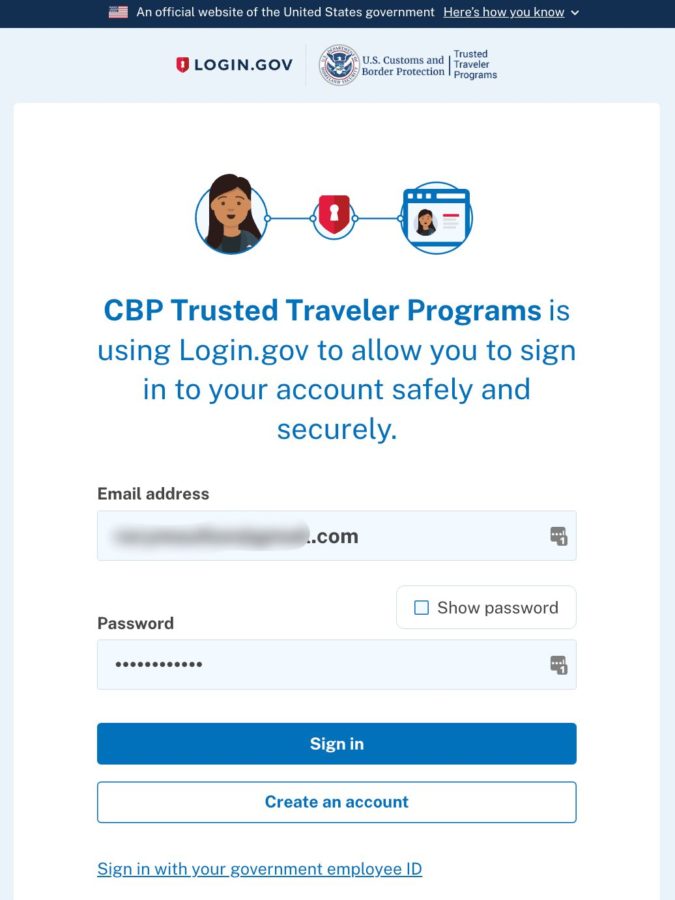 Appointment Scanner: My Experience and Verdict
Exactly three minutes. That's how long it took from signing up and paying to Appointment Scanner sending me a better appointment time. The first appointment cut my wait by five months!
Then I received another. And another. An August appointment. A late-July one. Then an opening in mid-July. And so on…
By the end of the day, the very first day of using the service, I had received seven alerts from Appointment Scanner. Most importantly, I now had my Global Entry interview scheduled for six days later. Appointment Scanner cut my wait time from over eight months to just six days.
So, yeah, I'm impressed.
All for only $29, which is pretty negligible when considering Global Entry costs $100 and missing a connection because of immigration control can cost thousands in time, opportunity cost and rebooking fees. Plus, since my Chase credit card reimburses me for Global Entry, Appointment Scanner's $29 fee is my only out-of-pocket Global Entry expense.
The verdict? It should come as no surprise that Appointment Scanner receives a strong recommendation from me. I believe in it 100%. I'll be adding it to my list of recommended resources for European travel, which remains a work in progress. Want to receive those recommendations when the list is complete? Sign up for my free weekly newsletter on European travel over here: rorymoulton.com/subscribe.
That said, I'm left with one burning question: When will we have Appointment Scanner for the DMV?