No trip to Germany (or, come to think of it, Austria, the Czech Republic or Switzerland) is complete without quaffing a liter ("ein Mass") or three at an outdoor German beer garden ("biergarten"). Welcoming beer lovers or aspiring beer lovers of all stripes, there's always room for one more at a German beer garden. The food's good and cheap. The convivial atmosphere can't be beat. Oh, and there's plenty of glorious, cold, pure, refreshing beer.
---
LIKE FREE BOOKS? Get two free Paris ebooks when you subscribe to my free email newsletter, EuroExperto. Subscribe here!
---
Don't be intimidated! Get out there and stroll confidently into a German beer garden. Here are some tips to help get you through the front door, which leads me to lesson #1: German beer gardens don't have front doors.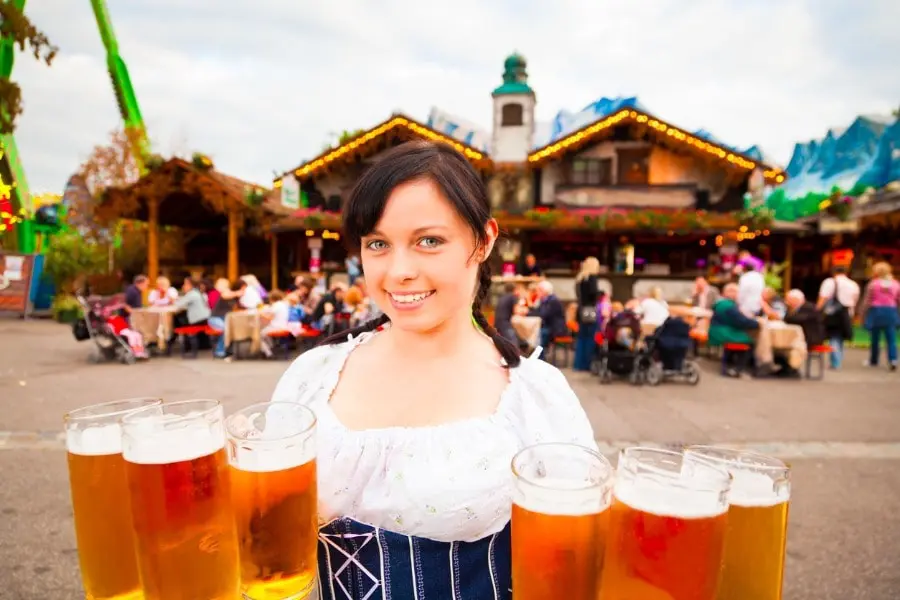 1. Know Before You Go
Learn how the German beer garden tradition started and what to expect from the patronage. Plus, discover what's on the menu at a traditional German beer garden.
Beer Garden History
German beer gardens are a relatively new invention, born of practicality. How Germanic indeed. Our story begins in the early 19th century when paternalistic King Ludwig I decreed Munich's beer-brewing/swilling monks could begin selling their beer on-site, straight from the tap — but not without a tax that would consequently lead to the infamous Bavarian Beer Riots of 1844. Yes, that's the most German riot ever. I digress.
Since Bavarian breweries stored their beer in cellars beneath large-leafed Chestnut trees, it made practical sense to throw up some communal tables in the cool shade directly above the slowly fermenting brew. Bavarians arrived in spades. Turns out, drinking crisp, cold beer in the shade on warm summer days is a worthwhile undertaking. Henceforth, outdoor beer gardens have graced the world. Thank you King Ludwig!
The Atmosphere
Traditionally, German beer gardens consist of long wooden tables with bench seating under large-leaf trees, often chestnuts and oaks. The communal long tables—harkening to the mead-hall tables of Germanic-Scandinavian origin—breed conviviality between beer-garden goers, who initially sit next to one another as strangers but depart as friends. Newer and larger beer gardens may have adjoining beer halls and may also offer more private, table-service seating.
Beer gardens attract a mix of patrons—the after-work crowd, families, travelers, retirees, drinking clubs and the odd raucous college group. Everyone comes to relax, drink freshly brewed beer, enjoy the outdoors and get along, with the occasional group outburst of song or soccer chant. Beer gardens are often crowded during peak times (5-11 p.m./closing), which may make finding a table more difficult, but never impossible.
The Beer, er, Bier
The main event in German BEER gardens is, of course, the BEER. Typically brewed at a healthy 5% ABV, German brewers still adhere to the Bavarian Purity Law of 1516 ("Reinheitsgebot") that limits the allowable ingredients in beer to just the bare essentials: water, hops and barley. Consequently, German beer contains no additives or impurities and relies upon fresh, often organically grown, hops and barley and cold, unadulterated spring water.
While German beer gardens, especially more-nimble small brewers, concoct seasonals and small-batch beers like famed Oktoberfests and invigoratingly light Kolschs, the five standbys are straightforward: light, dark, wheat and beer-lemonade mix:
Hefeweizen: Wheat
Helles: Malty lager
Pilsner: Hoppy lager
Dunkel: Dark lager
Radler: Half helles or pilsner, half lemonade
The Food
Even though old King Ludwig I gave breweries the ability to sell beer, he forbade them from hawking food (or hard alcohol, for that matter). So the beer-garden picnic quickly became popular, a tradition lasting to this day. Most beer gardens still allow patrons to bring their own picnic foods as long as they purchase beer. Some beer gardens section off tables specifically for self-catering, while few—mainly restaurants masquerading as beer gardens—prohibit the practice completely. If you're planning to bring a picnic, call ahead or look online to check their rules governing picnics. Or just double-check with an employee when you get there. An important caveat here is that bringing restaurant-bought, prepared food like pizza, kebabs, etc. is frowned upon, even "verboten."
Nowadays, beer gardens serve food and do so prodigiously. Food at German beer gardens is affordable and filling with an emphasis on hearty meat, cheese and bread-centric dishes. A fine-dining experience this is not, so more-discerning palettes may opt only for beer. Below is a list of common beer-garden eats. While you'll likely find pizza, pasta, roast chicken and hamburgers as well, I recommend going for the traditional southern German fare. Here are some:
Weisswurst: White sausage cooked in warm water and served with sweet mustard and a pretzel
Schnitzel: Breaded fried chicken, pork, turkey or veal ("wiener schnitzel") pounded thin and tenderized
Brezels: Fresh-baked pretzels covered in salt, crunchy outside and soft inside
Spätzle: Soft egg noodles cooked in butter and cheese, similar to mac and cheese
Brotzeit: Cold-cut platter with artisan cheese, sausages, pretzels, horseradish and cucumbers — literally means "bread time" which I find utterly adorable
Obatzda: Soft, white usually camembert cheese, mixed with onions and chives
Kartoffelsalat: Potato salad
Gurkensalat: Cucumber-dill salad
Brathendl: Rotisserie-roasted chicken
Should I bring the Kids to the Beer Garden?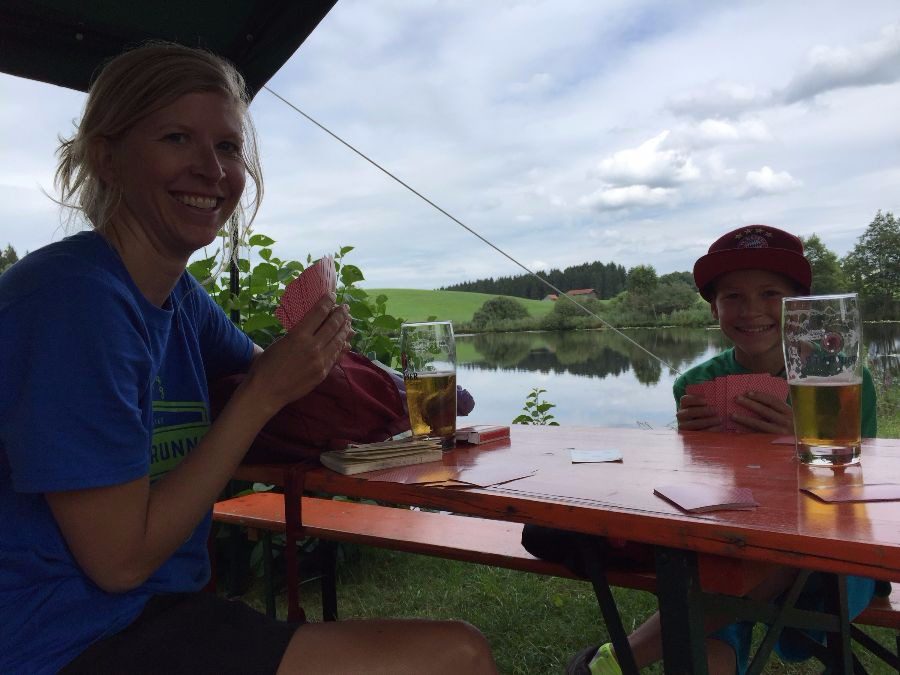 Definitely. German beer gardens, ironically, are a family friendly affair. While beer gardens may get rowdy at times, the exuberance rarely gets out of hand and there's usually a quiet area where families stake claims. Big beer gardens even provide playgrounds and play areas for families. Kids love eating the food (or bring your own picnic!) and drinking apple juice ("apfelsaft") from tall, half-liter glasses. Don't forget small toys, games, coloring books, a deck of cards or another table-top diversion to keep the kiddos occupied while you down some brewskis.
2. Enter and Behold: The Wonderful German Beer Garden
First, get a lay of the land, figure out what all this organized chaos means. Also, like so much of German society, there are rules and mores to follow.
Hold On There Buddy: Take a Lap Before Diving In
What's going on here? Are there tables or areas with more kids? Rowdy areas? Where are the restrooms? Most importantly, where's the beer? Walk around before committing to any one area, learn what's going on in each section. The main part of the beer garden will contain a bunch of interconnected long tables and benches close to the self-service beer and food stalls. The food and beer in these areas is served cafeteria-style.
Determine Which Areas Offer Table and Self-Service
German beer gardens typically denote areas with table service by laying down tablecloths. Also, look for signs that say "gedeckter Tisch." These tables may also be smaller with individual chairs rather than benches.
No tablecloths? Few if any beer garden waitresses running about holding ungodly numbers of mugs? No sign saying "gedeckter Tisch? Well, then, I do believe we're in the self-service area. Signs may say "selbstdienst" (self-service) or "Bitte bedienen Sie sich selbst" (please serve yourself).
Figure Out Which Lines are Serving What
Typically, some stalls or lines will only serve beer, some beer and nonalcoholic drinks, while others serve beer and food. Or some just pretzels. Scope the stalls before getting in line—do you see beer, food emerging from the front of the line? What are the workers serving? Do you see taps? Just step back and you'll get a feel for what's going on.
3. Staking a Claim
Now that we've got a handle on this beer-soaked madness and located a section that suits us, let's find a table.
Make Sure You Aren't Taking a Reserved or Regulars Table
Did I mention there are rules and norms we must follow? Probably the biggest mistake a beer-garden rookie can make is plopping down at a sweet, totally open table…before being kicked out by some angry barmaids because the table is reserved. Most—most—tables you see in that sea of tables are open to anybody, but some are held exclusively for regulars or drinking clubs. This will be written directly on the table or on a small placard placed on the table top. Tables reserved for regulars say "Stammtisch"—again, directly on the table or on a placard on the table. Reserved tables say "reserviert für [impossible-to-pronounce name of drinking club]" or just "reserviert."
Smile and Confidently Squeeze into Crowded tables
A beer garden breeds social interaction. It's perfectly acceptable to politely ask to squeeze into partially occupied tables. Say "hallo" to your neighbors before hoisting your mug and saying "prost!" Bam! Friends for life. Don't be shy. Chances are you'll also be asked to squeeze in for some folks at some point during your stay.
---
LIKE FREE BOOKS? Get two free Paris ebooks when you subscribe to my free email newsletter, EuroExperto. Subscribe here!
---
4. Before Leaving
First of all, no German beer garden experience should last less than a couple hours. But once the hour approaches 11pm, you've had your fill and are ready to stumble home, don't forget a couple things.
Souvenirs?
You can't take the gorgeous mug with you, but you can probably buy one or another souvenir at the gift shop. Yep, German beer gardens—big and small—have merch shops and what better way to commemorate your first German beer garden than with a branded souvenir. You'll find mugs, t-shirts, sweatshirts, posters and all manner of branded merchandise. But, c'mon, what you really want is a big ole mug, right? Well, hold that thought.
Mug Deposits?
To discourage patrons from absconding with their thick-glass steins ("Maßkrug"), German beer gardens may charge a one-euro mug deposit ("pfand") with your first beer, signified by a wooden token. Simply hold onto that token until you've drunk all your steins (refills won't require another deposit) and return the token for your deposit. (Or, and you didn't hear this from me, abscond with said mug because it'll cost way more than one euro in the aforementioned gift shop.)
Now it's time to stumble home and say goodbye—until we meet again, wonderful German beer garden.