Forget the Mont Blanc Tour and Corsica's vaunted GR 20. The best hiking in France is found between fairytale villages, among lush river valleys, farm fields, narrow limestone gorges and ancient forest tracts. And the friendliest characters this side of the Eiffel Tower.
In this article, you'll learn why rural France is the world's best destination for hikers, and why France's village-to-village long-distance treks are the world's best "slackpack" routes. Then, I'll dive into what I consider the 10 best hikes in France. Six are custom trails developed by yours truly, while four are tried-and-true popular hiking France routes.
Why Hiking France Deserves a Spot on Your Bucket List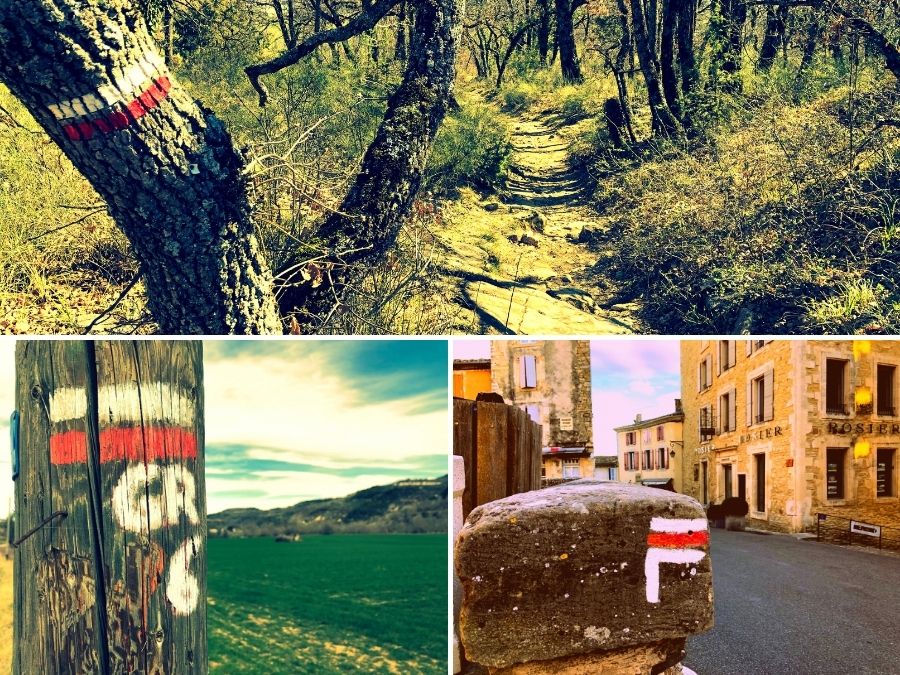 France pioneered long-distance trails well before thru-hiking the Appalachian Trail and completing the Camino de Santiago became fashionable. French trails are well-marked and easy to use, and they're EVERYWHERE—saturating the country from north to south, east to west, city to countryside. Just how far ahead is France's footpath system? Consider: France is only three times the size of England, but has over eight times more trail miles.
Many trails are ancient, and villagers have relied on them for centuries. You can walk from one point in France to almost anywhere else without leaving the trail network. That's impressive considering France is roughly the size of Texas.
The Rural French People
In rural France, we find the best examples of tradition in its culture and people. The families, farmers and artisans of the countryside who preserve a quintessentially French way of life remain revered throughout this nation of 65 million. Since dispensing with their monarchy, French society has attempted to protect and preserve their rural population (even if time and demographics are against them). 
Shelve any preconceived notions you may harbor—the rural French are friendly people. They love hearing travel tales, where you're from, how you arrived and what've you experienced along the way. I've received impromptu invitations to family dinners hosted in string-light-lit, 15th-century courtyards, declined rides in antique convertible BMWs, and developed lifelong friendships. All because I walked through their town one fine day.
History, History Everywhere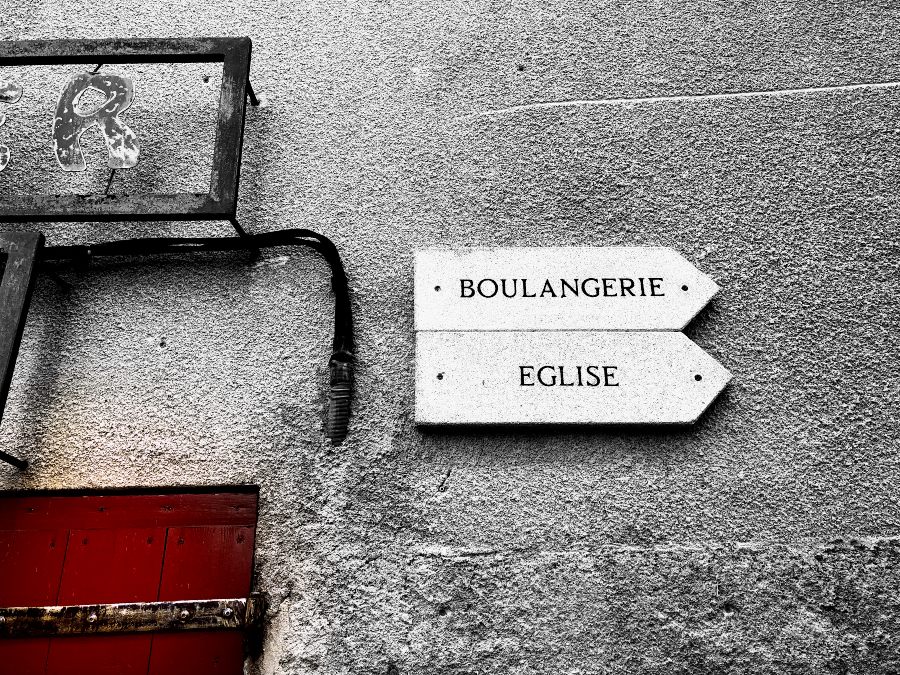 If you hold even a fleeting interest in European history, France, my friends, is ground zero. From Napoleon to Neanderthal, ghosts of all who ever strode Europe on two feet haunt France's history. 
Historic sites and cultural influences from every era of human's habitation of Europe riddle France. It's a European cultural repository bar none—myriad cultures have called France home: Neanderthal, Celts, Greeks, Romans, Britons, Burgundians, Franks, Turks, Scots, Visigoths, Arabs, North Africans, Vikings, Etruscans (who, it's noted, left behind their secrets of grape fermentation), Spaniards, Germans, Carthaginians, Basques and someday soon, I hope, you. 
Now that's a bona fide European melting pot. It shows to this day. I have a pale, skinny friend in Normandy who stands 6'4" and looks Danish, while another friend in Marseille, squat and olive-skinned, stands 5'5" and reminds me of my Portuguese relatives. Both are French. Very French.
Monuments, bridges, castles, ruins, cathedrals litter France, and they're unique to each region. But they're beautiful and romantic. If the Ancient Era doesn't tickle your historic interest, you can even seek cave dwellings from the dawn of man. Indeed, hiking France touches on nearly every era of human habitation.
French Terrain & Climate
While Hiking France, you will notice an extraordinary array of protected environments. France's conservation measures, the best in Europe, have protected 20% of the country's total land. French parks aren't the same as their U.S. National Park counterparts. Instead of separating man from nature, they have incorporated centuries-old towns, longstanding farms and vital accommodations. Only about 3% of protected land sits under heavy regulation and restricted to low-impact recreation. But authorities in every conservation district restrict extractive industries, carefully manage the flora and fauna, and place severe limitations on new development.
Western Europe's largest country by total landmass, France boasts a dizzying array of stunning landscapes. About 20% of the Alps, Europe's largest mountain range, sit in France. The varying geography means terrain suitable for every hiker. Even Americans and Canadians, spoiled for natural beauty, will recognize France's unique terrain—so much variety and elegance in such a compact nation.
France has mountains, both big (Alps) and small (Pyrenees, Vosges, Cevennes, Jura, Luberon). Green rolling hills (Brittany, Provence, Alsace). Craggy coastlines (Calenques NP, French Riviera, Brittany). Lazy rivers slicing through honeycombed gorges (Verdon, Dordogne). Thunderous waterfalls too many to mention. France even has a micro-desert hosting Europe's tallest sand pile (Great Dune of Pyla).
Food & Wine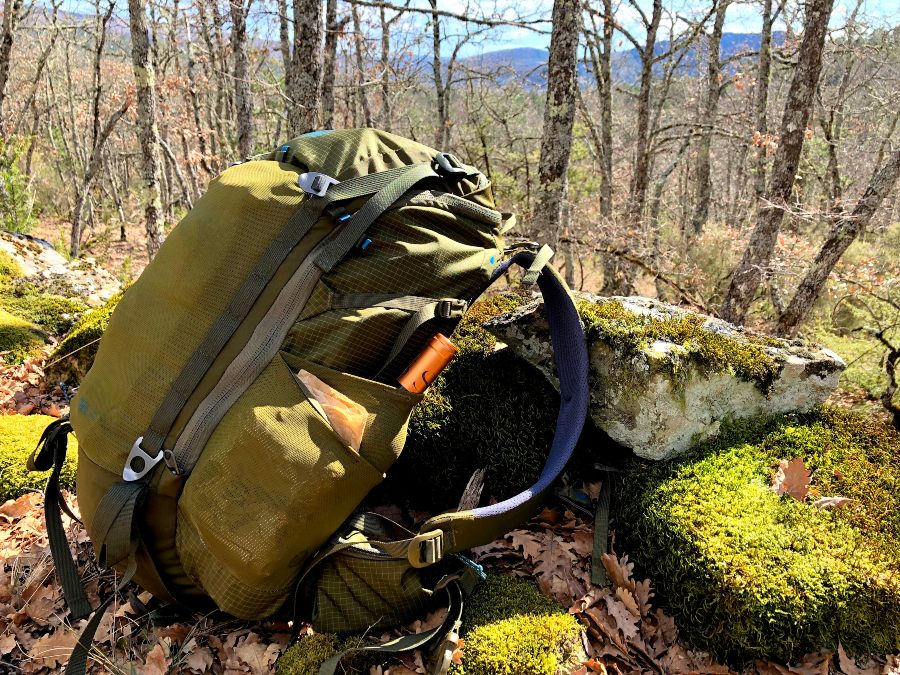 Perhaps you've heard France takes gastronomy and viticulture "très" seriously. I won't go deep on food. Besides, I'm no expert, and many far more talented travel writers are experts in French cuisine.
Hotel-restaurants offer the best value while hiking France because they combine lodging and eating into a half-board rate comprising room, breakfast and dinner. The food at gîtes d'etape, rural hiker-hostels, also vary. Some serving basic fried meat-and-starch meals, while higher-end gîte d'etape cook wonderful, traditional meals. You can discern the difference in price: Basic gîtes d'étape cost €30-60 per night for half-board. "Lux" gîtes run €60-120 per person per night (and they might also have a pool).
Beyond lodging, you'll find a world of rustic restaurants, gourmet food shops and open-air markets serving not only delicious food, but Western Europe's best-value meals as hinterland pricing remains affordable.
France's GR Trails are Hiker Superhighways
Long-distance French hiking trails comprise single- and double-track paths—farm fields, forests, holloways, wagon roads, parks, towpaths, canals, gorges, stone ruins and, yes, modern tarmac streets. While not the fastest, most direct routes, French village walks offer the prettiest, quietest and safest ways to link villages, cities, and important sites, both manmade and natural. 
But no matter what, they're classified by the FFRandonnée® in three main types of trails: GR®, GRP®, PR®. These three trail types form France's hiker superhighways. They often overlap, intersecting and combining multiple times with GR® trails serving as the backbone.
1. GR®: Sentiers de Grande Randonnée® ("Long-distance Hikes")
Signage colors: White and red
GR trails are the biggies, requiring days, weeks or months to finish. They cross regions or several departments, France's two largest administrative areas, sometimes utilizing historic routes but always pinning together interesting places and natural wealth.  
2. GRP® / GR® de Pays: Grande Randonnée de Pays® ("Long Country Hikes")
Signage colors: Yellow and red
GRP loops stay within a region and take 2-5 days. They overlap and intersect GR trails, and offer enticing variations, connectors and side trips off main GR routes. 
3. PR®: Promenades et Randonnées® ("Walks and Hikes")
Signage color: Yellow
Local clubs and governments create PR day hikes, usually lasting a few hours. They offer interesting diversions from GRs and GRPs, often running past significant historic and cultural sites or noteworthy ecological areas.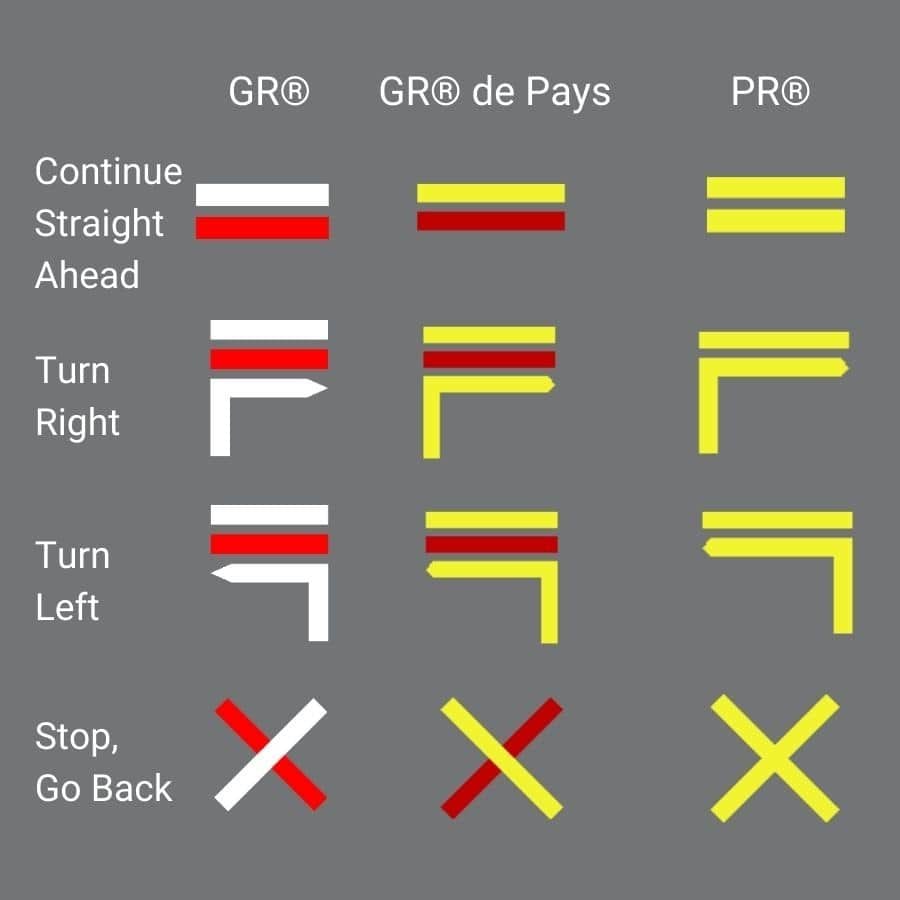 It's some 112,000 total miles of trails with GR® footpaths comprising 22,000 miles of it, the long-distance glue of France's trail network. That means GR® trails alone are the rough equivalent of 11 Appalachian Trails crisscrossing a territory approximately the size of Texas.
Why Village Walks are the Best Hikes in France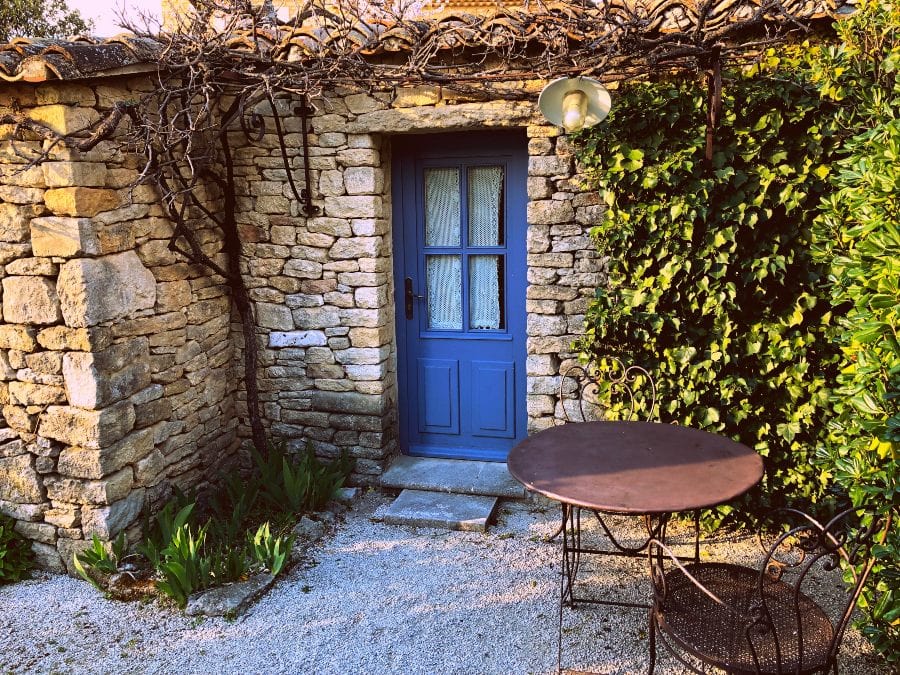 Long-distance hiking is satisfying, endowing the walker with a sense of accomplishment every day, especially when trail days come with extraordinary, home-cooked meals, hot showers and goose-down-filled beds. Hikers in-the-know call it "slackpacking," long-distance treks where hikers find meals and accommodation along the route. I mentioned the notion in the introduction.
Slackpacking, a riff on backpacking, is long-distance hiking… for slackers. Slackers like you and me! Slackpackers don't carry camping equipment or much food. Instead, they rely on huts, hotels, B&Bs and hostels for sleeping and restaurants and grocery stores for eating. Sometimes slackpackers use livestock or porters to carry their gear to the next spot. Either way, having meals and beds arranged and waiting eliminates the need for backpacking's heaviest equipment—tents, sleeping bags, stoves and days' worth of food.
The concept of hiking France from village to village for fun came into mainstream existence in post-World War I, France. Disillusioned, shell-shocked and maimed veterans struggled re-acclimating to society. Many set out on footpaths with small backpacks to rediscover their country and themselves. They reclaimed and rediscovered ancient trails, seeding France's now-ubiquitous hiking clubs.
Mountain walking in Europe, like the aforementioned Tour du Mont Blanc, involves hiking extraordinary alpine single-track trails, and eating and sleeping in huts with other hikers. Village walking entails traversing farm fields, forests, holloways, wagon roads, parks, towpaths, canals, gorges, stone ruins and, yes, modern tarmac streets. Village walkers interact with residents by eating, sleeping, and sightseeing in their tight-knit communities. 
10 Best Long-Distance Village Hikes in France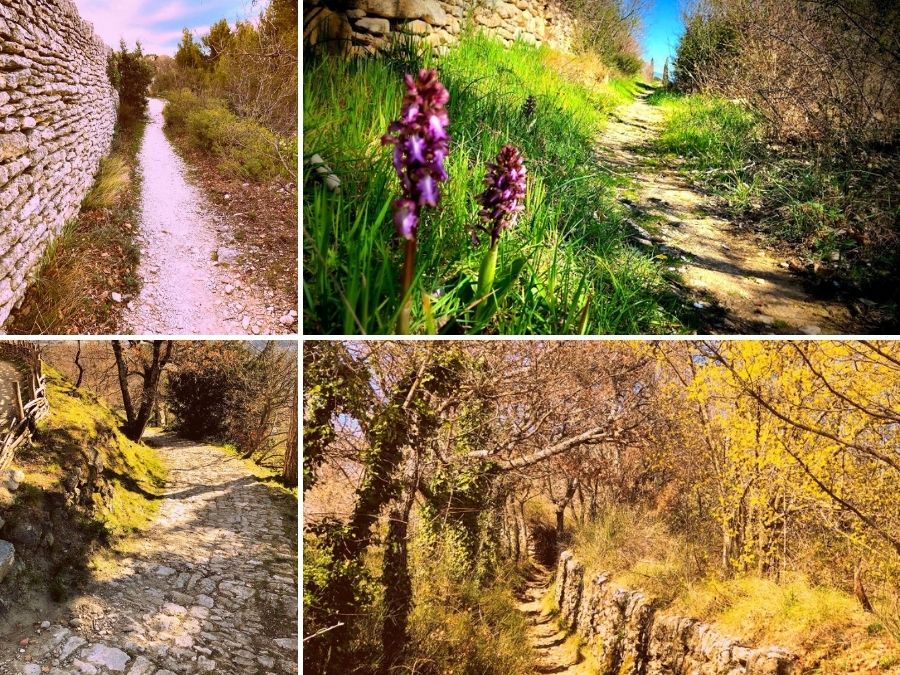 1. The Chateau Shimmy
Regions: Centre-Val de Loire
Areas: Loire River Valley
Trails: GR® 3, GR® 46A, GR® 655 East, various GRP®
Key Locations: Érigné, Orleans, Saumur, Chinon, Amboise
Approximate distance: 220 miles / 354 km
2. The Luberon Loop
Regions: Provence-Alpes-Côte d'Azur
Areas: Luberon, Var, Vaucluse
Trails: GR® 6, GR® 97, GR® 4, GR® 653D, various GRP®
Key Locations: Fontaine de Vaucluse, Gordes, Roussillon, Apt, Forcalquier, Lacoste, Simiane-la-Rotonde
Approximate distance: 140 miles / 22 Km
This is one of France's best long-distance hikes.
The Luberon Loop hiking guide is now available!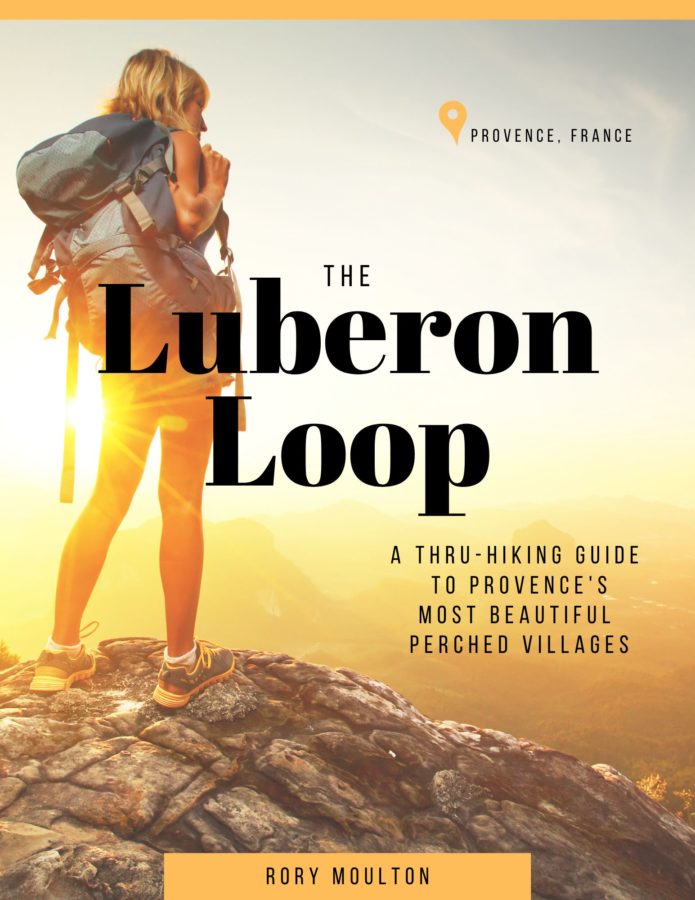 Here's a short preview of what you'll receive: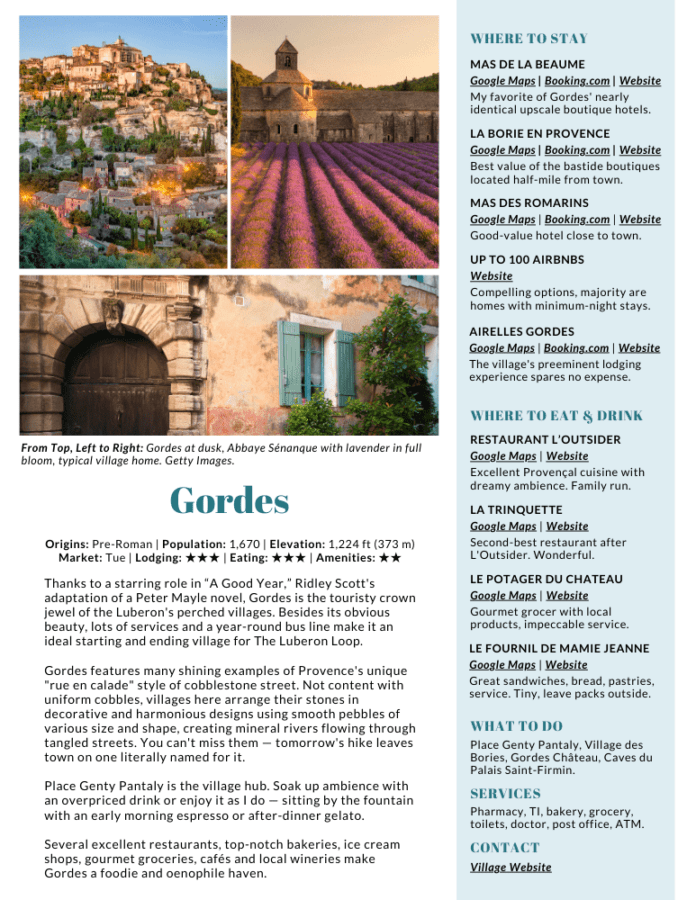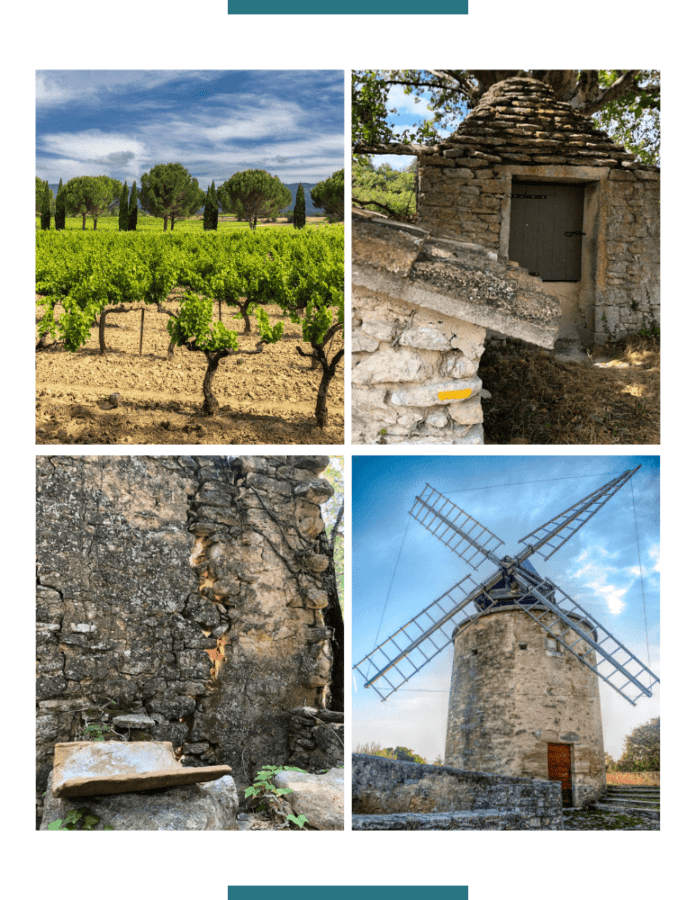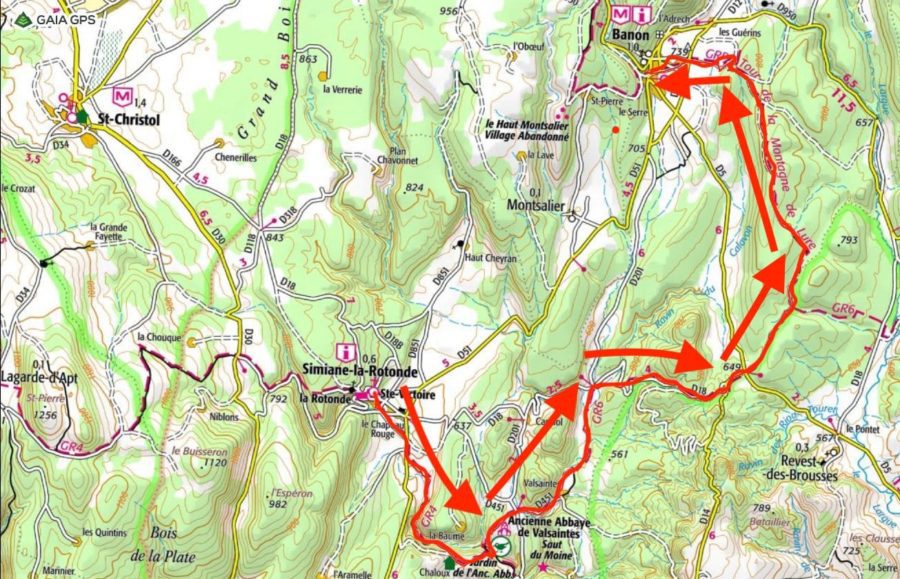 3. The Invasion Coast
Regions: Normandy
Areas: Cotentin Peninsula
Trails: GR® 223, various PR and GRP®
Key Locations: Bayeux, Cherbourg, Carentan, Utah Beach, Isigny-sur-Mer, Sainte-Mère-Eglise
Approximate distance: 135 miles / 217 km
4. Medieval Meander
Regions: Brittany, Normandy
Trails: GR® 34C, various GRP®, GR® 34
Key Locations: Dinan, Mont St Michel, Dinard, Cancale, Dol-de-Bretagne
Approximate distance: 85 miles / 136 km
5. A Wee Walk in Britain(ny)
Regions: Brittany
Trails: GR® 34 and variants
Key Locations: Erquy, Lannion, Paimpol, Perros-Guirec
Approximate distance: 185 miles / 298 km
6. Maginot Forts to Medieval Castles
Regions: Grand Est
Areas: Vosges, Alsace
Trails: PR Sentier de la Ligne Maginot, GR® 532, GR® 53, various PR
Key Locations: Roeschwoog, Wissembourg, Fort Schoenenbourg, Fleckenstein Castle
Approximate mileage: 75 miles
7. Le Chemin du Puy
Regions: Auvergne-Rhône-Alpes, Occitanie, Nouvelle-Aquitaine
Areas: Velay, Margeride, Aubrac, Quercy, Lot Valley, Pyrénées
Trails: GR® 65
Key Locations: Le Puy, Figeac, Cahors, St. Jean Pied de Port
Approximate mileage: 458 miles
8. The Seine from Source to Sea
Regions: Bourgogne-Franche-Comté, Île-de-France, Normandy
Areas: Paris Metro, Burgundy, Normandy Coast
Trails: GR® 2
Key Locations: Dijon, Le Havre, Les Andelys, Paris
Approximate mileage: 535 miles
9. The Stevenson trail
Regions: Auvergne-Rhône-Alpes, Occitanie
Areas: Gévaudan, Velay, Cévennes
Trails: GR® 70
Key Locations: Mont Lozère, Puy-en-Velay, Alès
Approximate mileage: 170 miles
10. Tracing the Last Cathars
Regions: Occitanie
Areas: Ariège, Pyrenees, Catalonia (Spain)
Trails: GR® 107
Key Locations: Foix, Berga, Roquefixade, Gósol, Portella Blanca pass, Queralt
Approximate mileage: 140 miles
From farmhouse cooking to Roman ruins, hiking France has it all. It's a bona fide bucket list trip. Intrigued? Check out my book "Hiking France," available exclusively on Amazon. Start planning your fairytale hiking trip to France!
Want some help planning a French hiking vacation? Book a custom travel consultation with me, Rory Moulton. I can help smooth over the logistical challenges and point you in the right direction. Learn more here: rorymoulton.com/consultation.