Ever felt the urge to shoulder a backpack and hike from village to village in rural France? Eating baguette-picnic lunches and Provencal dinner feasts? Walking among vineyards and stone villages? So have I. And in March 2019, I satisfied that exact urge with a six-day trip hiking France.
From Gordes in Provence's Vaucluse region, I set out on the GR6 and GR4 trails, part of France's extensive national trail system. Stringing together 27 "perched villages" (hill towns), within a half-day's walk of each other, I crossed idyllic lavender fields, picnicked in silent oak forests, journaled atop Roman-era stone bridges and dined at some of the finest old-world restaurants in Provence. Of course, I also encountered a hospitality and kindness from everyone I met. Friendships forged and conversations stamped into my brain forever.
I slipped into a simple-yet-satisfying daily routine. I'd rise early, stretch, pack my bags and check email before reaching the breakfast table about 7AM. After checking out of my lodging, I'd then meander through town, picking up lunch and snacking supplies from a gourmet food shop, grocery store or open-air market. Typically, picnic lunch consisted of a baguette, cheese, pâté, chocolate and some fruit. And wine, of course. Usually a full-bodied Malbec blend.
I'd hike a couple hours, steady as she goes, stopping only for photos or to adjust my clothing as the day grew warmer. Around 10:30AM, I'd take my first real break for second breakfast, or "casse-croûte" as it's known in France. Then it was onto my next hill-town for lunch. Sometimes I ate lunch in town. Other times, I wandered the stone streets before spreading my picnic on a bench, moss-covered stone bridge or a quiet oak forest just outside town. I'd then take a short nap in the sun or catch up on my journaling.
After lunch, I'd walk with intent. Again, only stopping to slug some wine, tour a sight (usually a church or castle) and snap photos. I'd pull into my B&B or "gite" (like a hostel for hikers) by about 6PM. That was enough time to check email, shower, stretch, sink-wash my socks and t-shirt and limp into town for an "apéritif" at a local cafe. If dinner wasn't provided, then I'd meander the main streets reading restaurants' handwritten menu boards until landing on one I liked. After a bottle of wine at dinner, feet barking, I'd slip into bed, usually by about 9 or 10PM. Sleep came fast.
Wake up and repeat. Times six. Trail life is life distilled: You eat, drink, sleep and repair your body. Wake up and do it again. It's oddly satisfying. Especially when you know there's great food, wine and kinship at the end of every day's walk.
So, let me recap the first part of the week. Hopefully, it inspires you to take your own self-guided walk in Provence. Ask me how. And stay tuned for part 2, coming your way next month.
Hiking France Day 1: Gordes to Roussillon via Abbaye Notre-Dame de Sénanque
After checking out of my glorious stone-cottage B&B, I begin my trek with … a side trip! That's right, instead of heading east along the GR6 trail, I go two miles west, the complete opposite way. But for good reason: I'm touring the 12th-century Abbaye Notre-Dame de Sénanque before turning around and heading toward Roussillon after lunch.
The Abbaye doesn't disappoint. Even though I'm several months too early to experience its famous lavender fields in bloom. An hour spent wandering the Abbaye's placid stone halls has me feeling blissful, my soul full and ready to, you know, actually, really, finally begin my hike.
Retracing my steps along the GR6, I pass back through Gordes, the wonderful hill town made famous in Ridley Scott's "A Good Year." Spectacularly sited atop a broad hill overlooking the lower Lure River valley, Gordes is also the biggest and most-touristy town I'll encounter during my entire trip. But on this cloudless, 60-degree March day it's mostly deserted.
I reach Roussillon just in time for a quick snack before the sunset orchestra plays its symphony upon Roussillon's ochre-red buildings. The sunlight illuminates the entire village, its orange-and-red buildings made from the local ochre rock. I sit in the town's tiny square below the belfry tower, sipping a glass of white wine, mesmerized by the light show. Before darkness sets in, I buy anchovies, almonds and chocolate from a gourmet shop and a bottle of red wine from the butcher. I walk downhill toward my B&B and a well-deserved night's sleep.
Resources
Hiking France Day 2: Roussillon to Rustrel via Saint-Saturnin-lès-Apt
One of the hardest things to do in travel is turn down a generous and unexpected offer from a new friend. And that's exactly how I start my day: By turning down a ride to Saint-Saturnin-lès-Apt in a pristine 1994 Jaguar convertible. The B&B owners, Felipe and Didier, are putting on their scarves in anticipation of a top-down Sunday morning drive. Yet, I must decline.
As you've no doubt noticed, walking from village to village is the theme of my trip. It's why I'm here after all. To use the local parlance (of our times), walking is my raison d'être. I'd be a cheater if I accepted a ride. Even though I've got a 20-mile day ahead of me, I politely refuse the ride. We make small talk in their lovely garden, which is literally two steps from my trail, the GR6, and proceed on my way.
I'm in the country now. The GR6 passes more farms and forests than towns and shops. It traverses trails and dirt roads more often than pavement. I enjoy the change.
I arrive in Saint-Saturnin-lès-Apt just in time for my Sunday lunch reservation at Restaurant L'Estrade. And just in time to work on the blisters I feel searing into my heels. After a spectacular duck confit lunch, I ascend the ridge line that runs from the village to the castle above. The views from the summit are the most expansive of the Vaucluse I've yet seen. This morning over breakfast, Felipe told me this view is his favorite in all Provence. It's invigorating. And vigor is something I need as I retrace my steps back to the GR6 and onward six more miles to my next destination, Rustrel, where I'll spend the night in a 17th-century castle.
Resources
Learn More About The Luberon Loop:
The Luberon Loop hiking guide is now available!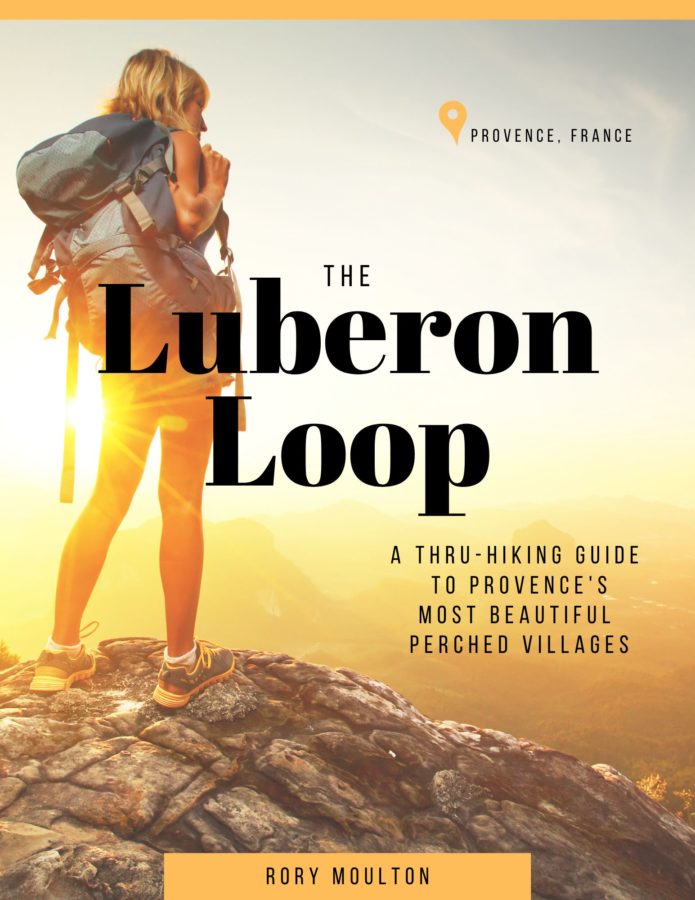 Here's a short preview of what you'll receive: