The secret is out: The Lost City trek in Colombia is one of the world's great hiking adventures. Since the Colombian Army secured the area once and for all (hopefully) some 15 years ago, the Lost City trek has exploded in popularity, assuming its rightful place alongside other iconic South American treks like the Salkantay to Machu Picchu and the Circuit in Torres Del Paine. And it's easy to see why. From rainbow toucans and waterfall-fed swimming holes to ancient ruins of a lost civilization, this hike has it all.
The trek begins near the city of Santa Marta, making it an effortless addition to just about any Colombian travel itinerary. Rugged and jungle-clad, the Sierra Nevada de Santa Marta (Santa Marta Mountains) are the world's tallest coastal mountain range. Jaw-dropping views — mist-shrouded emerald-green peaks in front of a turquoise sea — lend considerable weight to the idea that the journey is the destination. The rainforest hosts a bevy of biodiversity, especially birds, small mammals and an extraordinary range of fauna, like wax palms, ferns and old-growth mahogany. Of course, there's also the main draw, the end-goal, the Lost City itself, a remarkable ancient city of terraced stone.
History of la Ciudad Perdida, AKA "The Lost City"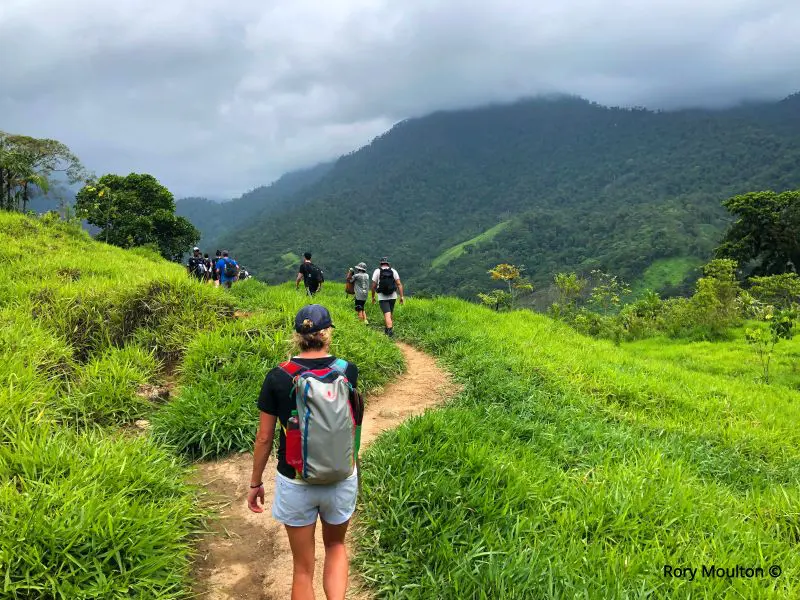 Around 800 CE, 600 years before the Incas built Machu Picchu and 700 years before the Spanish arrived in the New World, a thriving city carved into the jungle mountainside rose above the Buritaca River valley in the country now called Colombia. This was no simple town or temporary camp; deep in the Santa Marta Mountains, Teyuna was a bustling center of trade and manufacturing for the indigenous Tairona people. Teyuna, archaeologists contend, was the region's undisputed if unofficial capital city.
As many as 8,000 people lived here in thatch-roofed homes on the stone terraces. Coastal traders brought sea shells, seafood and other maritime resources to trade for gold and precious stones from inland tribes. Artisans refined metals in the city's manufacturing sector, fabricating solid-gold statues, gem-encrusted jewelry and bronze-tipped weaponry. This was ancient Colombia's London, Paris and Antwerp all rolled into one.
Then the Conquistadors arrived. The brave Tairona fiercely resisted the Spanish, but, realizing the futility and inevitability of conquest, they abandoned the city they called Teyuna and retreated deep into the Santa Marta Mountains beyond the reach of the Conquistadors. Today, four indigenous tribes trace their lineage to the Tairona — the Arhuaco, Kankuamo, Kogi and Wiwa.
Rediscovered by treasure hunters in 1973, the Lost City captured the imagination and attention of trekkers and, unfortunately, armed guerrilla groups. Long a stronghold of narco-trafficking insurgent groups FARC and ELN and the coca growers that supplied their only source of cash, the area saw little tourism from the mid-1980s until about 10 years, when insurgents laid down their arms, the army set up permanent outposts and farmers switched from coca to cows.
How to Get to Santa Marta
The Caribbean port town of Santa Marta is the gateway for the Lost City trek and other destinations within the Sierra Nevada de Santa Marta and Tayrona National Park. Of Colombia's major tourist cities, Santa Marta is closest to Cartagena. The 146-mile (236 km) coastal drive takes about five hours by bus or four hours by private car.
By Bus
Three bus options ply the route: public buses leaving from Cartagena's main bus terminal and two private minibus companies, Berlinastur and MarSol. Public buses are slowest (six + hours) and cheapest at about $5 USD, but will be packed with passengers, aren't air conditioned and have bench seats. Think six hours on a school bus.
While advertised as taking four hours, minibuses operated by MarSol and Berlinastur more often take five-to-six hours. MarSol offers pick up and drop off at centrally located hotels. Berlinastur buses depart from and arrive at their own terminals, both of which are about a 10-minute taxi ride from downtown. MarSol service costs about $15 USD each way and Berlinastur charges about $14 USD. Because of some scary online reviews of MarSol (breakdowns, dangerous drivers), I opted for Berlinastur. The 20-passenger, air-conditioned Mercedes Benz minibuses are comfortable and clean with safe, communicative (in Spanish, por supuesto) drivers. The individual seats offer a few degrees of recline. For maximum legroom, ask for seat #17 (Puedo tener asiento diez y siete?). They don't accept online booking, so show up at the terminal when you want to leave and pay with cash. Buses leave daily every 20 minutes from about 5AM to 6PM.
By Air
Flying to Santa Marta's Simón Bolívar International Airport is another option. Latin America-based airlines Avianca, LATAM Colombia and Viva Air Colombia offer service to Santa Marta. While it's primarily a domestic hub with multiple daily flights to Bogotá, Cali and Medellín, Viva Air Colombia began offering direct connections to Miami in 2018.
Eating & Sleeping in Santa Marta
While it's possible to breeze in and out of Santa Marta, this up-and-coming port city deserves a night before and after the Lost City trek. Not only will this give you a couple nights to soak up the local character, it's also less stressful than trying to catch a flight or bus in/out of town on either end of the trek. With excellent restaurants and a burgeoning boutique hotel scene, Santa Marta is slowly but surely shaking off its gritty-industrial reputation.
As the trek's popularity grows, so too does tourism in Santa Marta. The scene caters to trekkers and backpackers with ample bars, restaurants, hotels and hostels all anchored around a revamped historic center. The action radiates from Parque de Los Novios and the intersecting pedestrian streets, calle 19 and carrera 3. The best hotels and restaurants cluster around Parque de Los Novios in the heart of the historic center.
I recommend focusing your accommodation and restaurant search in this area. We had good meals at the Mediterranean Ouzo and French-Caribbean La Canoa. Cheap hostels abound, if that's your bag, but for a more upscale yet still affordable night's sleep, try charming Casa Verde. Or for a boutique-luxury experience, La Casa Del Farol and its sister hotels have no equal in Santa Marta. Most hotels will store your luggage while you trek and offer much-needed laundry service upon your return.
How to Find a Lost City Trek Tour Company
Five tour companies have permits to guide the Lost City trek. All five have excellent reputations and share campgrounds and logistics, even sometimes combining groups in low season. They all charge about the same. The licensed tour companies operating trips to the Lost City are:
So, which one should you pick? Since they work so closely together, it's really a tossup. Expotur, which I went with, attracts the largest groups and sends out the most tours, often leaving daily. I found them first online, then read solid reviews and a Lonely Planet recommendation. Finally, they were super helpful over email with prompt replies in excellent English. Turcol is the original and therefore longest-tenured operator. Newcomer Wiwa Tours uses indigenous guides only.
My advice: Peruse their websites. Read the reviews. Email each company. It may come down to timing, going with whichever company has a tour leaving on your chosen day. For those willing to play it fast and loose, wait until arriving in Santa Marta and visit each office. All five offices are within walking distance of one another in downtown Santa Marta.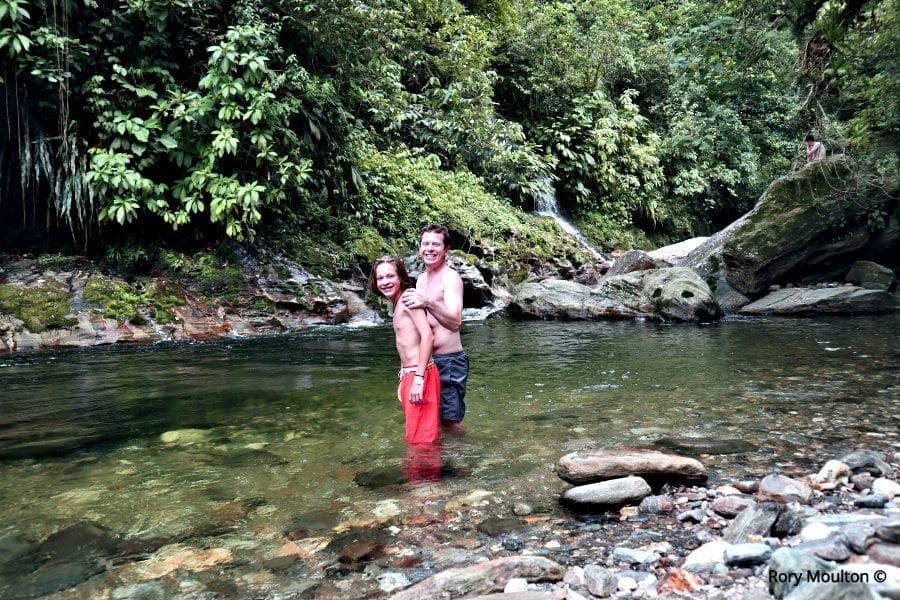 What to Expect on the Lost City Trek
This is the hike of a lifetime. Like all worthwhile endeavors, it's rewarding and memorable because it's hard. While not overly taxing, anyone in reasonably good shape with decent gear should have no problem completing it. That said, sick, injured or out-of-shape hikers can rent mules along the way.
On Trail
Most hikers complete the 26-mile, round-trip trek in four days, with memories and campfire stories lasting a lifetime. The hiking is challenging. Steep trails with multiple climbs and descents, thigh-high river crossings, wet rocks and roots combine with intense heat and humidity to make demanding trail days. The trail will be muddy and washed out from torrential downpours. As mesmerizing as the scenery is, it's a good idea to pay attention to the trail immediately ahead of you. Even though total mileage isn't impressive, significant elevation gain and loss adds to the challenge.
Most high points have a small drink stand, some with freshly squeezed juice and others offering cold water, Gatorade and soda. Take advantage of these rest stops. Sit in the shade and enjoy a cold drink. Groups leave together but everyone travels at their own pace with guides staying in contact via walkie-talkie radio and regrouping at the summits and drink stands.
Last, as a returning trekker advised: You will be wet. For four days. Soaking wet. You'll sweat from exertion. You'll sweat from the humidity. And, though we lucked out in this respect, you'll probably get rained on. It's altogether likely that your hiking clothes will stay wet the whole time. So just accept it now: You'll stay wet for four days. Therefore, it's important to bring dedicated clothes for hiking and a dry change of clothes for camp. More on that in the What to Bring section below.
In Camp
Camp accommodations exceeded my expectations and should please anyone who's backpacked in tents or huts. All have running water, flushing toilets with toilet paper and cold showers (bring your own shampoo and soap). They even run the Wi-Fi (for a small fee) and lights for a few hours every night. Cold domestic beer, soda, water, Gatorade and basic snacks are also available. Two of the three campgrounds sit beside rivers with waterfall-fed swimming holes which are positively divine after hiking all day.
Sleeping arrangements comprise communal, open-sided bunkhouses filled with rows of bunk beds covered in individual mosquito nets. Nights can be hot and buggy, though overnight temperatures drop dramatically at camp three, campamiento paraiso, so I recommend lightweight long pants and shirts for the evenings. 
The food is simple and somewhat bland but surprisingly good and very filling. For lunch and dinner, think chicken, fish, rice and fried plantains. Breakfasts comprise eggs, beans, fried bread and fruit plates piled high.
At the Lost City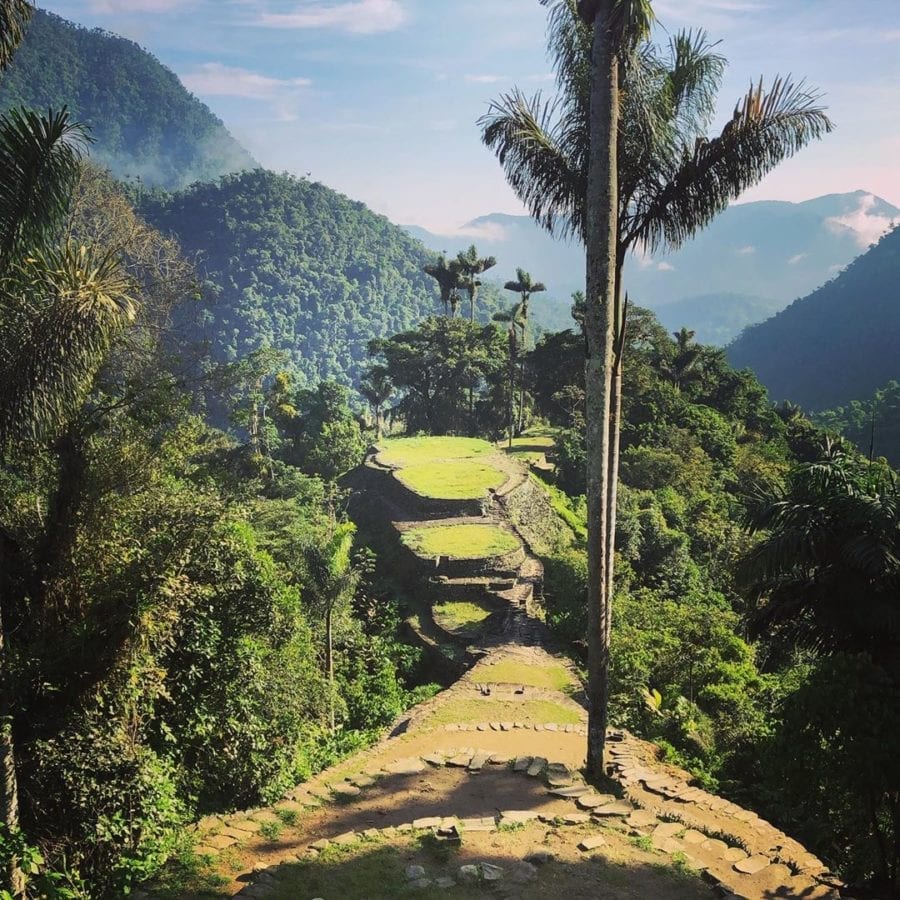 After a short hike from camp three, including a crossing of Quiebrapatas Creek, you'll reach the 1,200-step stone staircase leading to the Lost City. That might sound intimidating, and the wet stone steps are slippery, but after two days of hiking the unforgiving Santa Martas this last climb will feel easy. The staircase ends at a control point manned by a park ranger. The ranger will check your group's manifest with the guide and issue you an entrance ticket and informational pamphlet called the "Lost City Passport." And this brings me to another piece of advice: Bring your actual passport (which you should keep on your person per Colombian law). The park ranger will issue a "Lost City" stamp as a souvenir, like at Machu Picchu.
Remember this is the culmination of the whole trek, so get there early. Get a jump on the other groups by leaving about 6AM for an arrival at the Lost City by 7AM. Depending on the other groups, this should give you about an hour to enjoy the site in relative solitude and to score the most Instagram-worthy shots.
You'll have about three hours at the site, exploring and learning about the city's four areas — central axis, piedras sector, canal and north sector. We spent about half the time exploring the impressive and much-photographed central axis where you'll find the most-astonishing views and best-preserved terrace rings. Guides will fix a snack platter for your group about midway through the tour.
Finally, prepare yourself for mosquitos. Sure, they'll be a mild nuisance throughout the trek, but they sure seem to love the Lost City. Must be the views! Bring your bug repellent.
What to Bring
The Lost City trek traverses the world's tallest coastal mountain range in a severe tropical-jungle climate. That's all to say: It's hot and humid. Temperatures hover in the 80-90-degree Fahrenheit range with 100% humidity. Therefore, trekkers should wear lightweight and breathable clothing and pack light, carrying only what you'll need and use over four days. Leave the bulk of your stuff at your hotel or tour company's office.
Packing List
1-2 lightweight, synthetic hiking short-sleeved shirts
2-4 lightweight wool or silk hiking socks
2-4 lightweight, synthetic underwear and sports bras
Lightweight, synthetic hiking shorts
Hiking shoes or trail runners
Lightweight long pants and shirt for wearing around camp at night
20-40L backpack
Bathing suit and towel
Soap, shampoo, hand sanitizer, toothbrush and toothpaste
Hat, sunglasses, bandana, bug repellent, sunscreen
Playing cards, book, other non-electronic evening diversions
Approximately 150,000 Colombian pesos ($50 USD) per person in small bills for drinks, snacks and souvenirs
A few notes: Bring backpacking soap (like this one) to give your hiking clothes a sink wash at night. You'll thank me later. While nothing ever fully dries, each campsite provides dry lines. Use them, especially when the sun's out. For footwear, I caution against heavy-duty boots. Instead, go with mid-height boots, hiking shoes or sturdy trail-running sneakers. The bugs are relentless; we had good luck using Ultrathon bug repellent lotion.
Yellow Fever Vaccination
Although not required, receiving the Yellow Fever vaccination 10 days before trekking is recommended. While expensive ($100 +) and in short supply in the U.S., the vaccine is free and widely available in Colombia. The Red Cross operates vaccination clinics in the Medellin and Bogota airports. In Cartagena, a government clinic in the Getsemani neighborhood dispenses vaccines every day from 8-11AM. This is where we got our vaccines; the clinic was clean, well run and took a little under two hours. You will need at least rudimentary Spanish.
When to Go
As a coastal area in an equatorial region, the climate in the Santa Marta Mountains doesn't change much. It's hot and humid year round. It can rain buckets at a moment's notice. That said, it's in the northern hemisphere so rainy season coincides with spring months, typically lasting from March through May. Dry season starts in June.
In terms of visitation, January is busiest. By far. One day in January 2019 was the Lost City's busiest ever with 257 trekkers touring the site. On our visit in mid-June, about 40 people reached the ruins. While 257 people pales compared to the thousands visiting Machu Picchu daily, I fully expect this number to grow as the trek's popularity increases. My advice? Go when I did, in mid-June, for dry-ish weather and substantially smaller crowds.
So there you have it: The Lost City trek, no longer a secret and no longer lost.
---
LIKE FREE BOOKS? Get a free Paris ebook when you subscribe to my free, monthly email newsletter, EuroExperto. Subscribe here!
---