Making day-of reservations for the Notre-Dame tower climb comes highly recommended and will save you at least an hour of waiting in line.
While there are certainly higher and more famous viewpoints, nothing beats the view from atop Notre-Dame tower. The twisting lanes of the Latin Quarter fill the foreground while the Eiffel Tower stands sentinel in the background. It's the visual convergence of the medieval and gilded eras of Paris.
Introducing the Notre-Dame tower reservation system
Luckily, there are now two ways to enjoy this view without waiting in line. Reserve a spot using the JeFile mobile application or reservation kiosks. Either way you choose (choose the app), reservations must be made day-of (no plans to expand the service for advanced bookings). So, while you're still subject to the early bird eating the worm and what-not, you can now at least pick a time, bypassing the line altogether. Rejoice!
Even though the tower doors don't open until 9:00AM, reserve a place in line as early as 7:30AM using the JeFile mobile application (Download: Apple | Android). Or arrive promptly at 9:00AM at the reservation kiosks located outside the tower entrance on Rue du Cloître Notre-Dame. Make an immediate right after exiting the cathedral.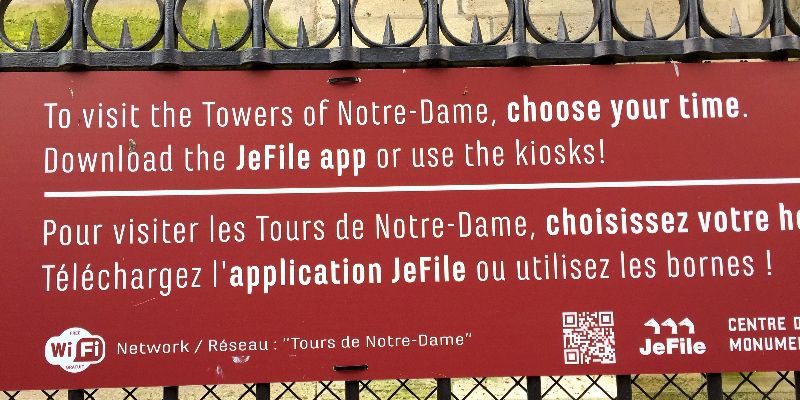 Since app users will likely book most of the morning time slots before the kiosks open, I recommend using the app. Download it at least the night before. Over breakfast, open the app immediately at 7:30AM to reserve your desired entry time. Even after a leisurely breakfast, you'll still have an opportunity to tour Notre-Dame Cathedral's interior before ascending the towers.
Waiting in this line was a miserable hour-plus itinerary pothole, but the JeFile app keeps your sightseeing day moving smoothly. Now, to convince Parisian cafés to embrace this system for their outdoor tables…
Get more great advice in Rory Moulton's book, 53 Paris Travel Tips, available on Amazon, Nook, iBooks and directly from this site.