An alternative to the permit-required and heavily touristed Inca Trail, the Salkantay Trek to Machu Picchu can be attempted in a variety of ways — from DIY camping to 5-star luxury guided — but none offer the ground-level experience of Refugios Salkantay.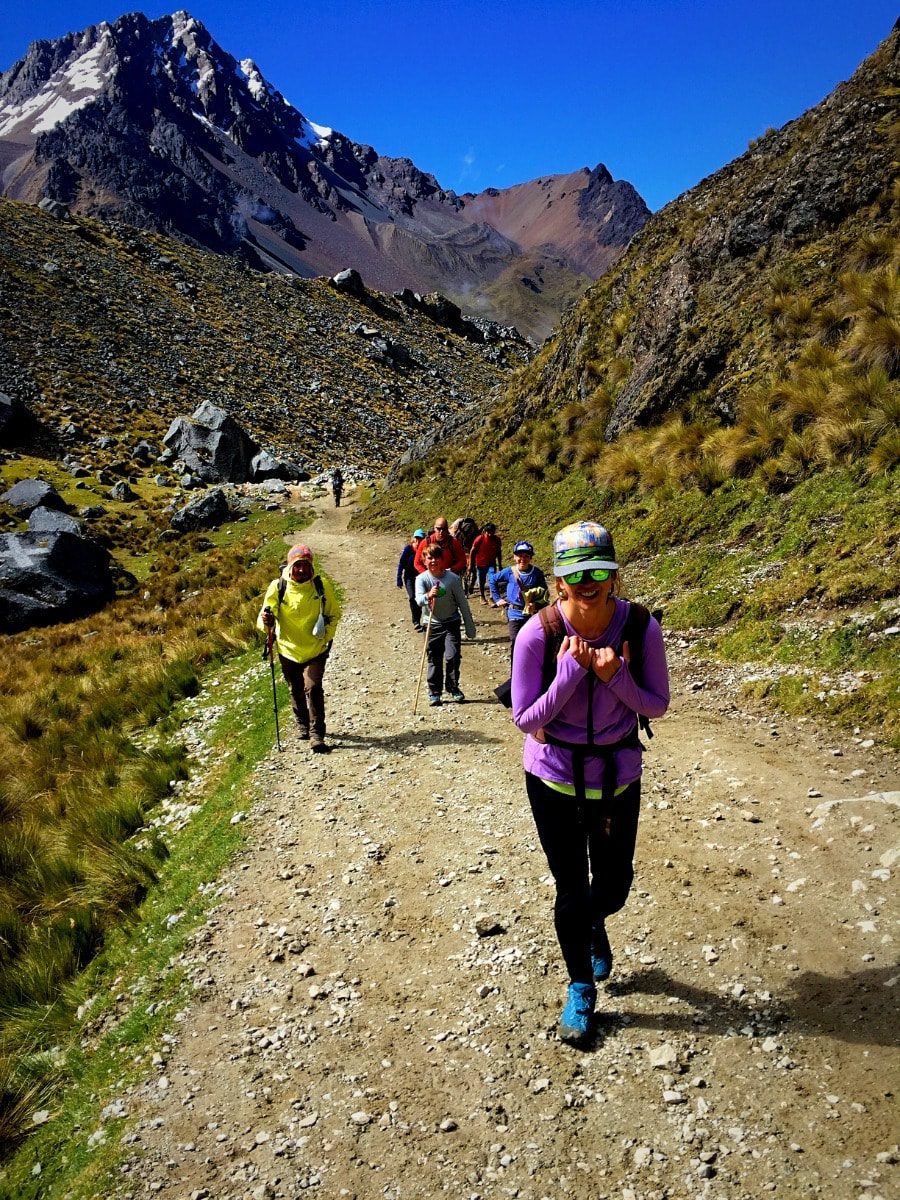 Prelude
Friends who have completed the full Salkantay Trek shower us with warnings: Swarming mosquitos. Endless rain. Thin air. Utter exhaustion. Arduous climbs. Food poisoning. Ornery burros.
Is that it?
We question our travel choice, "Should we really subject our son to this, um, character-building experience?" Somehow preparing for a Peru trek has morphed into a covert Vietnam War mission behind enemy lines. Do we really want to camp and hike for 4+ days while soaking wet, covered in mosquito bites and tired to the bone?
I stumble on a solution: Refugios Salkantay
They promise hot showers, lodging with local families, livestock assistance (i.e., they carry our big bags and we carry our day packs) and all meals for four days of Andean trekking. The outfitter boasts almost-unanimously positive reviews on Airbnb and TripAdvisor. Sounding too good to be true, we PayPal the owner, Edwin, a down payment and nervously circle the dates on our calendar. Mosquitos be damned.
DAY 1: Mollepata to Soraypampa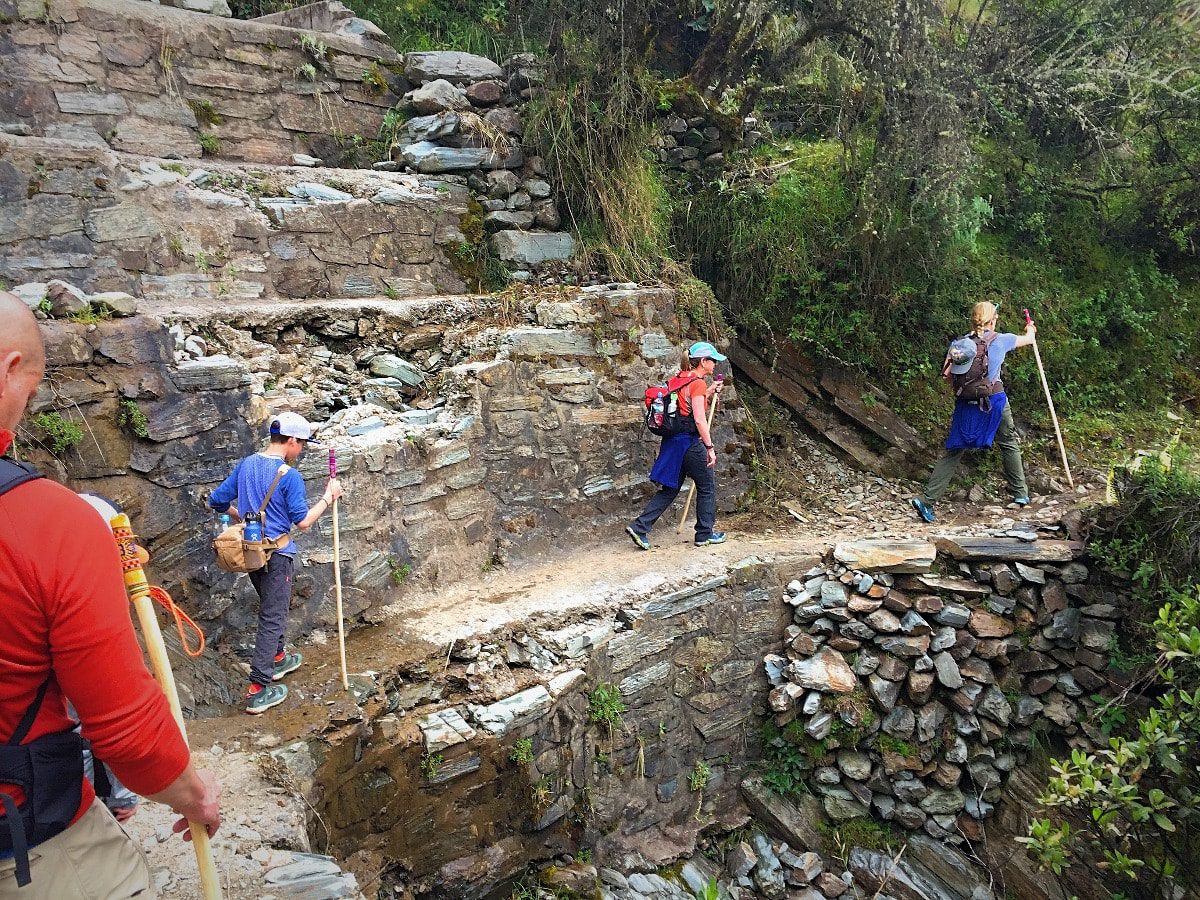 The trek begins, well, in a car. The drive from Cusco's San Blas district to our starting point, the tiny Andean village of Mollepata, is nothing short of stunning. We dip, dive, swerve, climb and plough forward through dense jungle, scantly vegetated alpine passes, vast agricultural terraces and rapidly diminishing towns. I count four different climate zones during our two-hour drive.
Over scrambled eggs, diced mango and pineapple and flatbread smothered in honey, Edwin briefs us in methodic and measured Spanish on the journey ahead. Overall, it's a reassuringly detailed plan, but includes some disconcerting portions:
"In Chalway, ask for a guy named Ishmael."
"Pack horses will knock you off the cliff, so move to the inside of the trail when you see horses approaching. Muy rapido."
"Don't walk through the train tunnel when there's a train coming."
Claro?
We walk a few hours beside an Incan canal, ushered along by its soothing soundtrack of swiftly rushing water, before reaching our first stop at Refugio Soray, located in a mile-wide, verdant alpine valley at the base of Salkantay Pass. The wispy cloud halo encircling Salkantay Peak slowly breaks, giving us our first look at the 20,000-foot mountain, bejeweled with hanging glaciers and crowned with a knife-edge ridge leading to a spear-tip summit. The prospect of tomorrow's closer look excites us as we embark on a 1-hour acclimatization hike to Huamantay Lake, after a hearty lunch of chicken soup and lomo saltado (Peru's fried rice).
Night is cold at 12,000 feet. We watch our smoky exhales rise toward the plywood ceiling as we tuck into a cocoon of at least a thousand alpaca blankets, dreams of crossing 15,000-foot Salkantay Pass dancing through our heads.
DAY 2: Salkantay Pass to Lucmabamba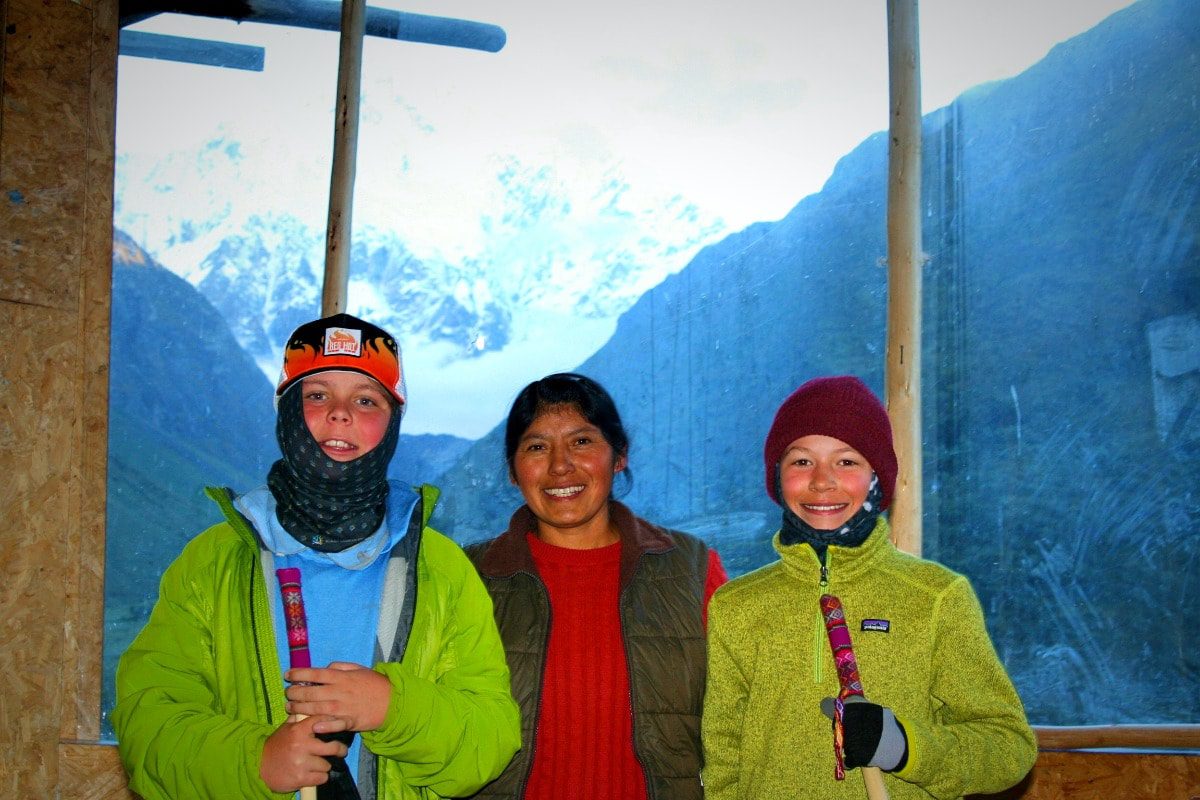 We're traveling with our friends and neighbors, the appropriately named Ihnkens (pronounced just like the bygone empire whose ruins we now traverse). The ascent quickly reveals there are two fitness levels in our group — my mountain-goat, cross-country-runner son, Lynn, and the elder Ihnkens, Rick and Colleen, who we learn run trails back home in hours that I hike over whole days. So that leaves the rest of us, the mere mortals — my wife, Tarn (the Ihnkens' son) and yours truly.
Lynn cruises ahead, quickly scampering out of sight, while Rick and Colleen, who clearly feel bad for the mere mortals, slow their pace to hang and chat with us. After overtaking a group of sweaty and breathless Germans, we learn that Lynn, who passes group after group on the ascent, has earned the nickname "The Legend" for his speedy climbing skills.
Reuniting at the pass, we smile, snack on local chocolates, guzzle water and snap victorious photos. The air is thin. The sky is blue and there's a glacier hanging off a 20,000-foot peak above us. As we begin the descent into the jungle and onward to Lucmabamba, our home for the night, I look over my shoulder, taking one last mental picture of the mighty Salkantay. You never know when or if you'll be back.
Our digs in Lucmabamba are a revelation: An organic coffee plantation with two casitas carved from a small rectangle of jungle located DIRECTLY on the Inca Trail. Run by a heartwarming family of four generations, they greet us like long lost relatives with cold Cusqueña beers and genuine smiles. We immediately feel welcome, at home. We take short, hot showers. Bellies and hearts full, we gather in the courtyard to watch as Tarn and Lynn play some improvised version of soccer with the owners' constantly giggling 6-year-old daughter. We feast on a fabulous trout dinner served alongside a yucca-and-avocado salad, drinking a few more beers as we revel with our hosts (who repeatedly tell us how nice it is to host guests who speak Spanish, however tenuous our grasp on the language may be) late into the night.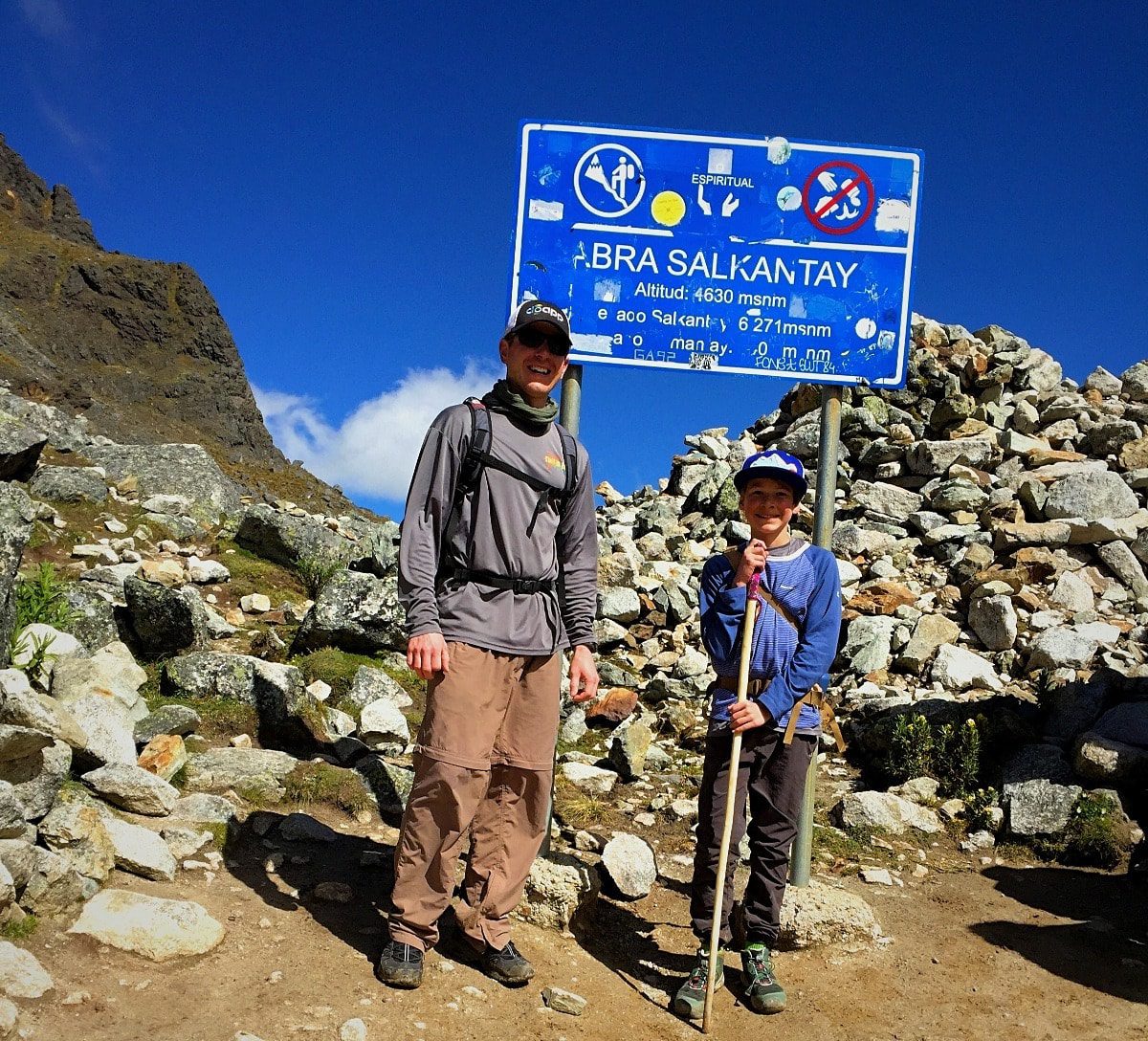 DAY 3: Inca Trail to Llactapata Lodge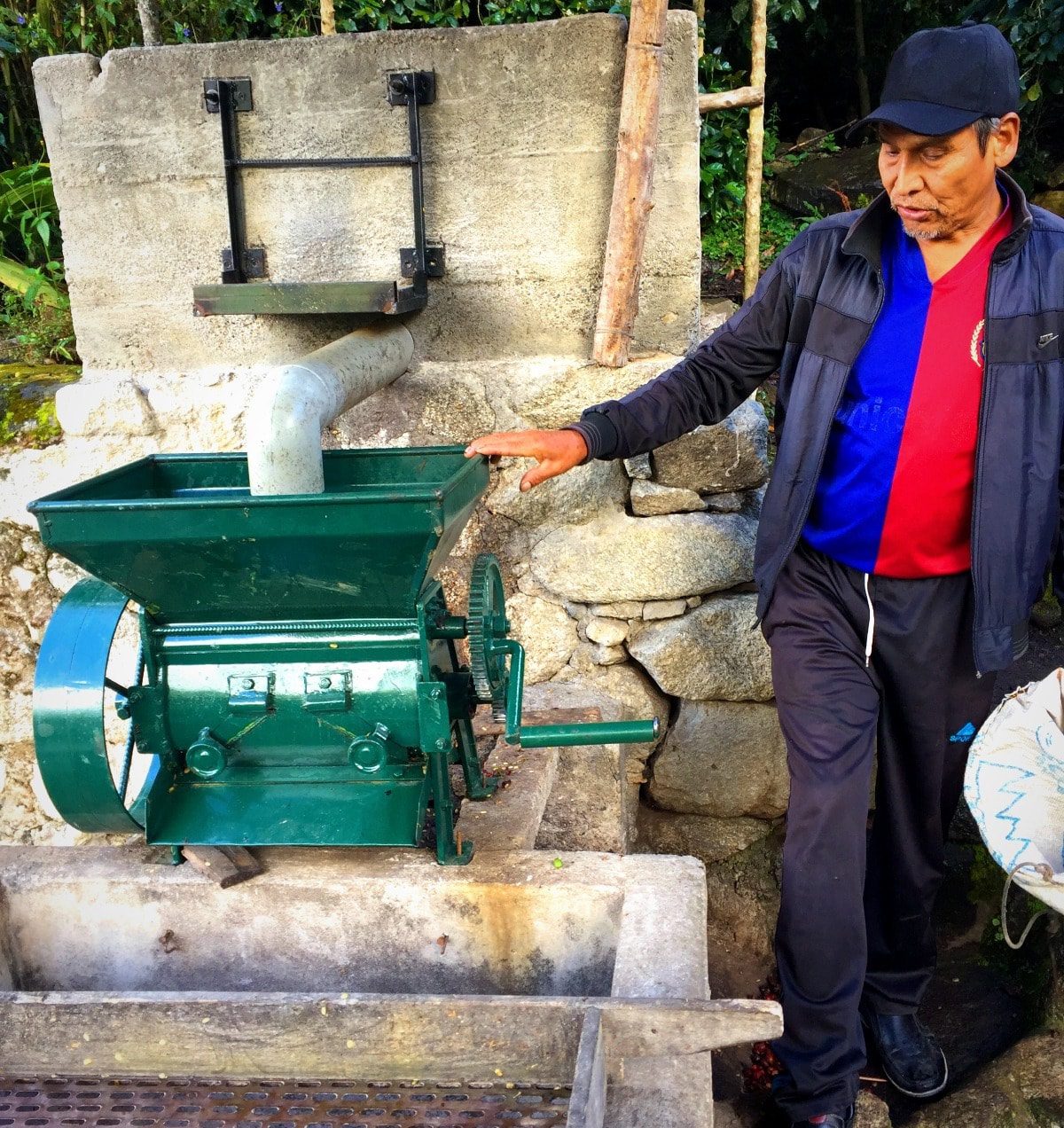 We rise, renewed and ready for another day of trekking. First, Oscar, the patriarch, guides us through the coffee process, from cultivation to roasting, with a side trip through the banana trees and guinea pig pens. Just before lunch, a driver delivers us to the local hot springs in Santa Teresa (because all jungle paradises should come equipped with natural hot springs nearby) to soak our sore bodies for a couple hours. The big, clean pools' hot water and smooth river stones fills the prescription.
Alas, the trail calls after a replenishing lunch of quinoa soup and grilled chicken. We reluctantly say goodbye. No one wants to leave this peaceful oasis bursting with coffee beans, hummingbirds, parakeets, banana trees, lovely hearts and easy smiles.
The hiking is strenuous. We climb toward a saddle on the ridge above the plantation. It's hot and while the trail isn't particularly steep, it's unrelenting. And did I mention it's hot? It's a whole different world here — sticky jungle as opposed to arid alpine pastures. We continue ascending, though, undeterred by jungle conditions because we know a grand reward awaits at the saddle.
And what reward it is! A few minutes after gaining the saddle, we arrive at a clearing containing the Llactapata ruins and a direct view of Machu Picchu. We're stunned, literally speechless. The view extends across three steep river valleys. The morning's misty clouds clear and we look out toward what feels like forever, with Machu Picchu's backside — precariously clinging to a thousand-foot cliff — right smack in the center.
As amazing as this view is, it gets even better as we arrive at Llactapata Lodge, our accommodation for the night. The view from our rooms — Machu Picchu surrounded by towering jungle peaks above and abrupt river gorges below — beats even that from the ruins a couple hours earlier. We kick off our muddy boots, open cold beers and Fantas and congregate on the bench outside our casitas to stare in awe at our new backyard. Our smiles say everything. Is this heaven? No, it's Llactapata.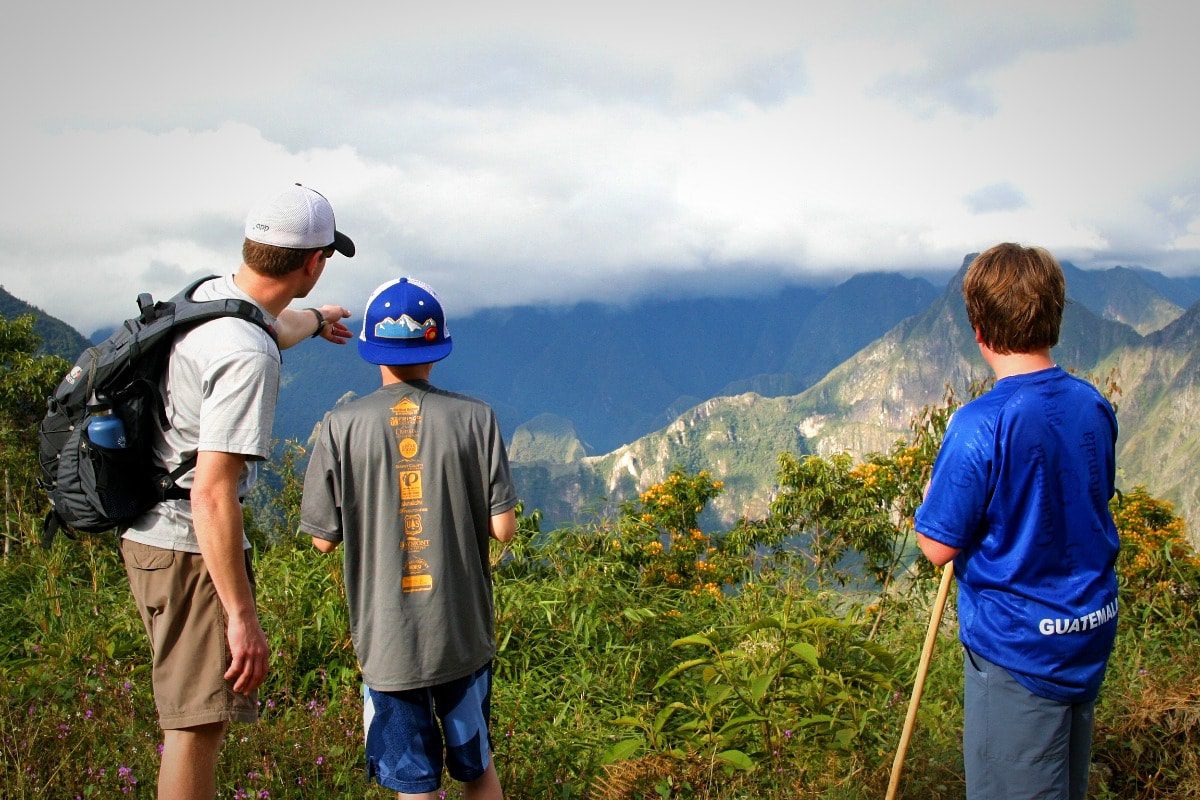 DAY 4: Train Tracks to Aguas Calientes
Awakening to Machu Picchu practically in bed with us, we breathe in one last view from the Llactapata refugio, shoulder our day packs and descend through the heavy jungle canopy toward the trail's terminus, the railway town of Hidroeléctrica.
It's muggy and we're feeling haggard from yesterday's trek, but this is the home stretch so we march on through Hidroeléctrica, linking up with the rail line. We follow the train tracks and signs to Aguas Calientes, a few hours hike beside the raging Vilcabamba River. Massive white-granite cliffs plunge into the river while misty clouds ring mountain peaks. It feels like we've stumbled into a lost world. Sure it's hot, we're hungry and the bugs are out, but we hardly mind.
I smile as Aguas Calientes comes into sight. We've done it. Despite all those warnings from friends and some long days on trail, we've not only completed the trek but, more importantly, we're arriving with smiles on our faces…thanks to a few refugios along the way.
---
Book your Salkantay Trek with Refugios Salkantay here: www.refugiossalkantay.com