The secret is out: Everyone should travel Europe at some point in their lives. But everyone doesn't have to go AT THE SAME TIME! Apparently, that seems to be the thinking among a certain set. I'm here to correct that misguided notion and offer a few more clues on how to beat Europe's crowds.
---
LIKE FREE BOOKS? Get a free Paris ebook when you subscribe to my free, monthly email newsletter, EuroExperto. Subscribe here!
---
1. Go during shoulder season.
The easiest way to beat Europe's tourist crowds is to avoid them altogether by traveling in shoulder seasons when tourism is lowest. This varies by region, of course, but by simply skipping July and August, you'll encounter significantly less tourists.
In fact, according to a Eurostat study about 1/3 off all tourism in the EU occurs during July and August.
In 2016, seasonal fluctuations were particularly high in the tourist accommodation sector where 33 % of annual nights spent were recorded in the two peak months, July and August.
Just look at this graph that plots 2016 tourism visits from across all 28 EU member states: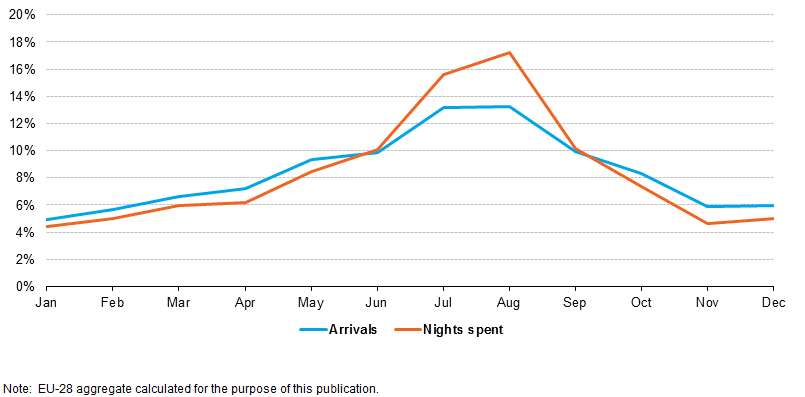 What do you see here? Me? April and October seem to offer a nice combination of decent weather and less tourists. Although, I'm a glass-half-full traveler.
Do some research. Determine the high seasons for your potential destinations to see if they vary from the EU norm shown in the chart above. Hint: It's not always summertime. For example, Paris in the springtime can't be beat and people know that. The city will actually be almost as crowded in April as in July. Same goes for Switzerland in March when ski season reaches its apex.
Overall, though, traveling in the spring or fall — in addition to encountering milder weather, especially in Europe's south — will allow you to beat Europe's crowds like a seasoned pro.
2. Visit small towns & "second-tier" cities.
Another tactic for beating Europe's crowds altogether is to bypass the big, bucket-list cities and build an itinerary that's heavy on small town and "second-tier" cities. I use "second-tier" for lack of a better term. More often than not, these are second-tier only in the sense that they draw less foreign tourists. They remain cultural, gastronomic and activity heavyweights just like their better-known brethren.
Though the data is from 2015 and now somewhat dated — Istanbul has slipped significantly in the last few years — this study conducted by consultant Roland Berger looked at overnight tourism to the EU's capital cities and cities with more than 1 million annual overnight stays. This resulted in 45 cities organized into three clusters
Cluster 1: 13 cities with more than 10 m overnight stays
Cluster 2: 17 cities with 2-10 m overnight stays
Cluster 3: 15 cities with less than 2 m overnight stays)
Here's the top ten from each cluster in terms of most overnight stays:
Additionally, tourism density means as much as overall tourism, so consider this fact revealed by the same study:
Concerning the tourism density as measured by the overnight stays per inhabitant, Paris has the highest tourism density, followed by Amsterdam, Prague, Munich and Rome.
Now, I'm not saying skip Paris or bypass Rome. But for every big capital city, there are dozens of smaller cities and even more rural towns that are ideal for punctuating a crowd-skipping itinerary. For every Barcelona and Sevilla, there's a Pamplona (not during San Fermin Festival) and Zaragoza. In Portugal, try the Alentejo rather than the Algarve. Italy's Amalfi Coast draws the crowds, but Puglia remains blissfully untrammeled. I could go on, but I'm sure you get the drift.
3. Find offbeat attractions.
Even amidst the high-season deluge of tourists that throttle Europe every summer, you can still beat the crowds by picking lesser-known or more offbeat attractions. You don't have to see all the big-name art museums in Paris or tour Mad King Ludwig's Bavarian castles.
There are always other options. Always.
In Bavaria, hop on a bus or pedal your bike to Austria for the Ehrenburg castle ruins instead of shuffling shoulder-to-shoulder at the Disney-like experience of Füssen's Neuschwanstein. Paris' delightfully quirky Musée de la Chasse et de la Nature and the homage to industrial design, Musée des Arts et Métiers, rarely draw crowds while the Louvre and Orsay stay packed with tourists all day. These little haunts exist all over Europe and they are the perfect zig when all those tourists zag.
4. Rent a car
I love Europe's railways, but I also know that leaving those railways behind reveals a whole new world of European travel, one that's often far less saturated with tourists than destinations on the rail line. A rental car secures your freedom to travel spontaneously and dive deeper into the countryside.
I rarely travel exclusively by rental car. Instead, I recommend peppering the trip with a rental or two of a few days. Pick up your car outside of a big city somewhere within a short train ride to avoid Europe's bewildering urban traffic. While satellite GPS can cover many sins, also grab a printed map and a small cooler with ice while you're at it.
Even though tour buses don't follow the rail lines exactly, it's highly unusual for them to linger in the countryside longer than for a day trip, which leads to my next piece of advice:
5. Stay overnight.
Day tripping into the countryside from a major European city provides a much-needed respite from big-city bustle. Unfortunately, you won't be alone as any attraction or town reachable by train as a day trip will be crowded mid-morning to early evening during high season. Those groups and lines you hoped to leave behind in the big city manage to tag along, uninvited.
Luckily, an easy solution exists: Spend the night. Stay a night in Versailles from Paris. Overnight (or two!) in Füssen from Munich. Spend the night in Rothenburg. Book a room in Bruges. Stay in Toledo instead of Madrid. Again, the list is practically endless.
Nighttime, even during high season, offers a more intimate look at a town or city. Go for an after-dinner stroll. Walk the town's ancient ramparts, along the river or past bustling alleyway restaurants. Let your imagination run wild and then get up early the next morning… before the tour buses return.
6. Go early… Or late.
Get up early because Europe — especially during high tourist season — is not kind to those who sleep in. Line-choked European attractions can quickly discourage travelers with interminable wait times and shoulder-to-shoulder crowds. Fancy feeling like a sardine? Go to the Orsay Museum right after lunch.
But you're not a sardine. You're a human being and you can beat Europe's crowds by outsmarting the herds. Yes, the herds. You see, most tourists visit Europe on group tours and those group tours really pack 'em in, sometimes 80+ people per tour. Once those tour buses start arriving at attractions, the lines quickly become unbearable. Your goal is to beat the tour buses every morning. Arrive at the day's first attraction a solid 15 minutes before it opens.
Churches are great first stops because they typically open their doors to the public by 8AM. You can see a church and still make a 10AM museum opening — freeing up your post-lunch itinerary for… well, anything other than waiting in line. Picnics. Lesser-known museums and attractions. Walking. Shopping. People watching. Café hopping. You get the picture: Get up early, hit the big attractions first, then take your time, find a café or park bench and let the rest of the day find you.
Perhaps you're not a morning person or don't want to wake early every day of your trip. Then my recommendation is to go late, especially if you can attend a late closing. Europe's big museums usually stay open late one night a week or month. Try those late closings and you'll find much more manageable crowds.
---
LIKE FREE BOOKS? Get a free Paris ebook when you subscribe to my free, monthly email newsletter, EuroExperto. Subscribe here!
---
In sum: There are many ways to beat Europe's crowds if you're willing to be flexible. You got this.
Beat Europe's crowds: Visit in the spring or fall and sprinkle small towns and offbeat attractions into your itinerary.