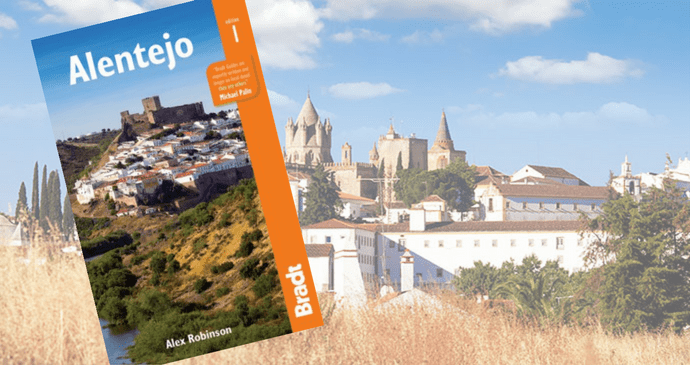 Vitals
Edition reviewed: First
Date published: December 3, 2015
Date I used the book: June, 2016
Publisher: Bradt Travel Guides
Authors & Researchers: Alex Robinson
Genre: General with an emphasis on food, wine and history
Pairs nicely with: Alentejo Blue (which is a novel, not a guidebook) and The Rough Guide to Portugal
Strengths: History, culture, food, wine, road tripping
Weaknesses: Budget, nightlife, adventure
Recommended for: History buffs, foodies, wine lovers, ruins explorers, those looking to escape Western Europe's maddening tourist crowds
Price at publication: $19.99
Quick Takes
Yay!
Engrossing history and culture chapter
Thorough winery overview
Deep lodging reviews
Smart itineraries
Expert eating and shopping advice
Healthy dose of nature info
The author, Alex Robinson, commands a mastery of the Alentejo. What this book covers — and it covers a lot — it does so thoughtfully and deeply. In sum, Robinson and Bradt have published an impressive first edition.
Nay!
Not for those seeking hard-partying nightlife or extensive budget options.
Will soon be showing its age.
Meh… A second or third author would have been a strong addition, perhaps for the 2nd edition (Hey Bradt, I'm available. Me liga?).
Ratings (0-5 stars)
Breadth: 4/5
Depth: 5/5
Organization: 5/5
Usability: 5/5
Tone & Voice: 3/5
Accuracy: 4.5/5
Overall: 4.42
Amazon rating: N/A
From Amazon Reviewers
No reviews (aside from my own) as of publication.
Bottomline on Bradt's Alentejo
This is one of the finest guidebooks I've ever used and unquestionably the best guidebook covering this little-visited area. Robinson and Bradt have a masterpiece on their hands. My only qualm is … do I want more people to know about this blissfully tourist-free area by promoting its definitive guidebook? Dice = rolled.
**HARD BUY**
SOFT BUY
AVOID!
BUY AT BRADT GUIDES
(not an affiliate link)
BUY ON AMAZON
(not an affiliate link)
Read my previous guidebook reviews:
---
Disclaimer: These opinions are just that — opinions — and entirely my own. Frankly, you shouldn't use them as your end-all, be-all for deciding whether or not to purchase a particular guidebook. In fact, you shouldn't consider my opinion at all when making buying decisions — just like my wife. That said, I've been traveling for 20 years, writing and editing for travel publications for over 15 years and only review guidebooks after I've personally battle-tested them on the ground, in-country. Also, I don't accept paid-for reviews, don't accept advertising and this blog is blissfully free of affiliate links, meaning whether or not you click through the above link(s) to purchase makes no difference to me.