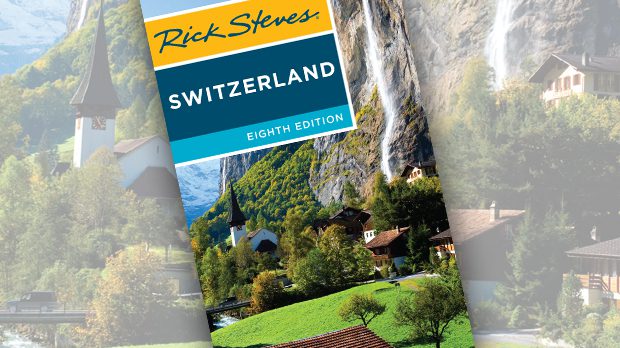 Rick Steves' Switzerland Guidebook Review In Sum
Yay! An ideal guidebook for travelers seeking a taste of Switzerland's big cities and small alpine towns. Nice dive into history, culture and food. Nobody does logistics better than Steves and his crew. The ground-level travel ethos is strong with this travel jedi.
Nay! Adventure enthusiasts and those hoping to ditch the crowds should look elsewhere.
Meh… As I write in all Rick Steves guidebook reviews, this book is as handy for deciding where to go as it is for deciding where not to go because Steves and his crew — ever the commercial tour guides — invariably choose the well-trod path.
Vitals
Edition reviewed: #8
Date published: April 5, 2016
Publisher: Rick Steves/Hachette Book Group
Authors & Researchers: Rick Steves, Ian Watson, Gene Openshaw
Genre: General
Pairs nicely with: Lonely Planet's Walking in Switzerland
Strengths: History, big cities, the well-trod path, logistics
Weaknesses: Adventure, hiking, lesser-known destinations
Recommended for: Families, travelers who — regrettably — aren't packing hiking boots, over 50 crowd
Price at publication: $13.99
Quick Ratings (0-5 stars)
Breadth: 2/5
Depth: 4/5
Organization: 5/5
Usability: 4.5/5
Tone & Voice: 2/5
Accuracy: 5/5
Overall: 3.75
Amazon rating: 4.3/5
From Amazon Reviewers
Good: "Fantastic updated guide! We have been planning our first Switzerland trip and have used several different travel guides in the planning process, but this is the book we're bringing with us in our carry-ons. So many practical suggestions! I also love the updates: new hotel and lodging suggestions, an expanded section on the Geneva area, etc. Really great, can't wait to buy his books for future trips!"
Bad: "My favorite part of the country was not even mentioned. Steves leaves out entire swaths of the country, and many interesting towns. I felt I would have enjoyed travel to different places if I had brought my other guidebook. His obsession with the Berner Oberland, and especially with one town, is a bit much. Sure, it is a wonderful place. However, I would have spent 3 days there rather than 5 had I known better what it is like: lovely, but pricey, touristy and somewhat crowded even in low season."
Ugly: "Useless"
Bottomline: This book, despite its shortcomings in breadth of coverage, kitschy tone (how many times can one man use the throwaway term, "characteristic?") and lack of adventure coverage (in an adventure-rich nation) is a SOFT BUY.
HARD BUY
**SOFT BUY**
AVOID!
BUY ON AMAZON
(not an affiliate link)
---
Disclaimer: These opinions are just that — opinions — and entirely my own. Frankly, you shouldn't use them as your end-all, be-all for deciding whether or not to purchase a particular guidebook. In fact, you shouldn't consider my opinion at all when making buying decisions — just like my wife. That said, I've been traveling for 20 years, writing and editing for travel publications for over 15 years and only review guidebooks after I've personally battle-tested them on the ground, in-country. Also, I don't accept paid-for reviews, don't accept advertising and this blog is blissfully affiliate link free, meaning whether or not you click through the above link to purchase makes no difference to me.