I love traveling Europe. Riding trains, eating street and fancy-restaurant food, scouring museums, strolling cobblestone streets and losing myself in historic daydreams. What can I say? I'm a bonafide Europhile. Naturally, I love receiving European-flavored gifts.
Maybe you're the same way or have a special someone in your life who also loves everything about Europe. Its food, culture, wine, beer…  If so, then you're in luck because this list is for you.
What follows is a carefully curated guide of European gifts made in, inspired by or somehow connected to Europe. And I'm serious about that "carefully curated" bit. Unlike most travel gift guides, you won't find any travel pillows, suitcases, passport carriers or other boring travel gear. Just European-made or European-inspired goods. Here's just a smattering of what lies ahead:
Books on cooking, hiking and traveling Europe
Kitchen gadgets
Wine
Beer
Cooking lessons
Art
Food
Antiques
It's a little bit of everything. Go ahead, splurge on European gifts this holiday season. You have my permission. Cheers!
---
European Gifts for Foodies
---
3. How to Read the Menu: France, Italy and Spain
I've never met a menu I couldn't confidently order from, no matter how little I actually understood. So you can probably guess that my travels are rife with culinary surprises. From a party platter of thinly sliced ham when I thought we were getting a small tapas plate to constantly mistaking tagliata (beef) with tagliatelle (pasta), what I'm trying to say is I need these books.
---
4. Truffle Oil 3x Selection
My neighbor recently adopted an Italian truffle dog. They call her Eliza. By next fall, I will harness this crazed hound to do my truffle bidding in the oak forests of Western Colorado. I can't bear knowing that the only thing standing between me and potential truffle ecstasy is nothing but a little expert training gleaned from decades of experience and handed down from generation to generation.
---
5. Italian Farmhouse Cookbook
Speaking of canines: One Thanksgiving, I saved a copy of this 20-year-old cooking/travel book from the frothing pack of attack dogs that prowl my in-laws' farm, very nearly losing a few digits and definitely a chapter or two in the process. It costs under $2 on Amazon.
---
LIKE FREE BOOKS? Get a free Paris ebook when you subscribe to my free, monthly email newsletter, EuroExperto. Subscribe here!
---
6. Squid Ink Pasta
Did you know cephalopod ink contains the neurotransmitter dopamine? And did you also know dopamine produces a sensation of euphoria in human brains? Now, I'm not saying that squid-ink pasta will get you high, but I'm also not saying it won't.
---
7. Laguiole 3-Piece Cheese Knife Set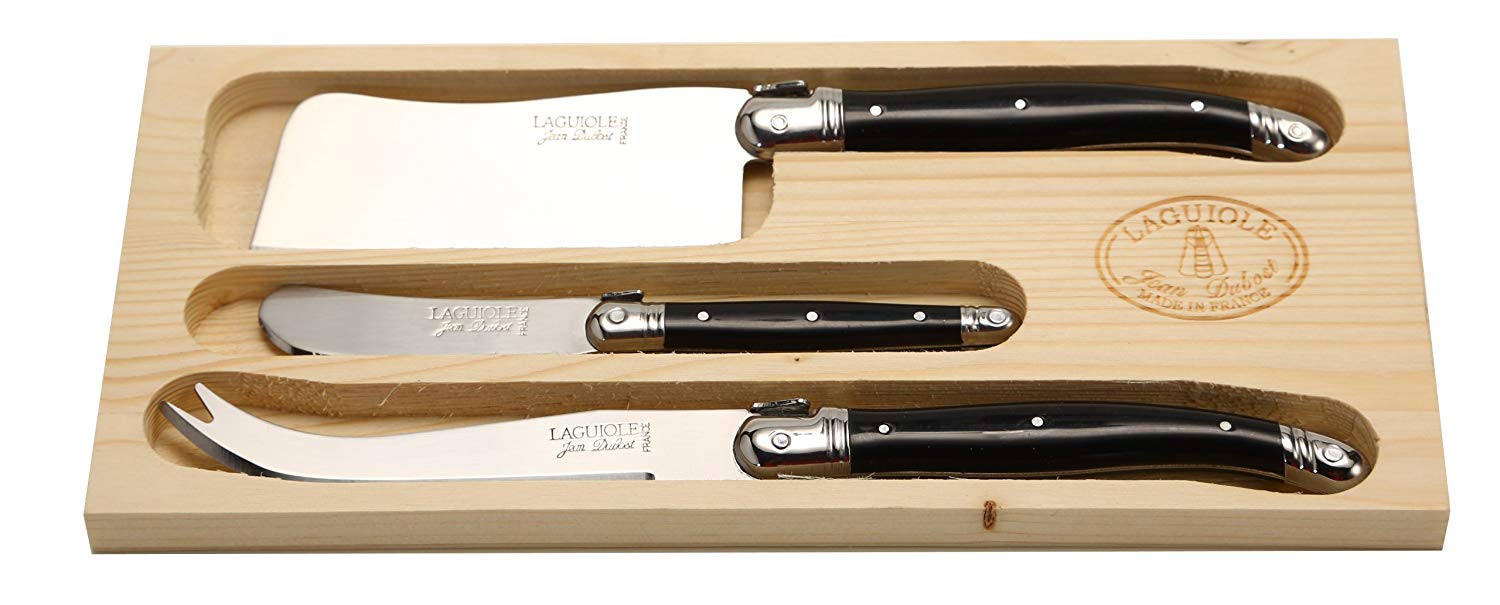 Before the yellow-vest protests erupted in France, I highlighted the following passage on French taxes from the 1991 book, "A Year in Provence," by Peter Mayle:
"You buy a bidet," he said, jabbing me with his finger, "and you pay full TVA [ed. note: 18.6% at the time, 20% nowadays]. The same for a washer or a screw. But I will tell you something scandaleux and altogether wrong. You buy a pot of caviar, and you will pay only 6 percent TVA, because it is classified as nourriture. Now tell me this: Who eats caviar?…I will tell you. It is the politicians, the millionaires, the grosses légumes in Paris — they are the ones who eat caviar. It's an outrage."
So, as you can see, this rural resentment of Paris and the moneyed elite — though potentially rooted in the Great Bidet Uprising of 1991 — has been percolating for some time. Like since 1789.
---
8. French Cooking for Beginners
I don't remember how I stumbled upon the Instagram account Pistou and Pastis, but it immediately lured me in with perfectly composed photographs of sumptuous home-cooked French meals, huge hauls from the backyard garden, sausage-and-oyster BBQs and an overall approachable feel to what many consider complicated and high-brow: French cuisine. The man behind the account, Francois De Melogue, has written two cookbooks, French Cooking for Beginners is his latest. Much like his Instagram, the book celebrates simple French cooking that anyone with a pan and a spatula can make. He scours French favorites and demystifies the cooking process.
---
9. Dirt: Adventures in Lyon as a Chef in Training, Father, and Sleuth Looking for the Secret of French Cooking
Before I was born, my parents ran a restaurant in Hyannis Port, Massachusetts. It was a dream come true that quickly became an all-consuming nightmare. Foot traffic in the summer resort town was predictably irregular. Locals were reliably cheap. And good, reliable employees were hard to find.
My father cooked and my mom ran the front. One day while prepping dinner and cooking lunch, my dad sliced the tip of his left index finger clean off. He bagged it in ice and drove himself to the ER. He returned a couple hours later, fingertip back in its original configuration, and proceeded to cook the full dinner service. They closed the restaurant less than a year later.
---
10. European Bread/Charcuterie Boards
I want these. I want lots of these. I want to replace all the dishes and platters in my house with these. I won't stop until they hang from every wall in every room in my little mountain house.
---
11. Cooking Lesson with Nonna Live
Since the pandemic began, Nonna Live has gone viral, making appearances across international news shows. But she's not just a pretty face who's handy with a rolling pin, Nonna is also an inspiration to seniors everywhere and a bit of a philosopher to boot:
"10 years ago my husband passed. I have spent every single day of my life together with Gino. And his place was suddenly empty. One day, as the other days, I was sitting on the sofa, crying. There wa no one around. So I said myself aloud: "stand up! What are you doing? Go out!". And so I got dressed with a colorful dress, and I went out. From that day I slowly started to come back to live. Every day I found a way to be happy.
You need to be brave in life, you must love yourself. And you must LAUGH every day of your life. This could be a good purpose, be able to laugh every day. With lot of love, Nonna Nerina"
---
12. A Tinchitè Sicilian Cooking Box
Just before the pandemic struck, I took a pasta-cooking class in Rome. I learned many tricks, including to never whip eggs in a bowl but instead to always scramble them in a hot pan. But it was my instructor's honesty that really stuck with me. When the daylong class concluded, she wished us well, said we'd all make great pasta chefs, then looked directly into my eyes and said, "But maybe some of us should just buy the pasta."
---
European Gifts for Trip Planners
---
13. Scratch Off World Map
The world needs more "scratch-off" things. Why is scratch-off technology limited to lottery tickets and maps? There's no shortage of opportunities! College acceptance letters? Make 'em scratch off. Restaurant menus? Definitely scratch off. Report cards? No brainer, scratch off. Election ballots? Scratch to win, baby!
---
14. Airbnb Gift Card
Some people say gift cards lack sentimentality. Some people also wear Under Armour in public.
---
15. Scott's Cheap Flights Gift Card
Technically, I don't find cheap flights. They find me. Or rather, someone else finds them for me.
No, I don't have a virtual assistant holed up in Manila searching Google Flights all day and night. I haven't taught my pet hamster how to search flight websites (yet), and, no, I don't have a secret software program scraping flight-search sites.
I've got something much better: A membership at Scott's Cheap Flights.
Scott's Cheap Flights is, as the name heavily implies, a discount-flight-finding service. You sign up, choose your departure airport and Scott's minions send emails whenever they find super-cheap flights originating from said airport. Sometimes they even score "mistake fares"—tickets at least 50% off.
All told, I've saved thousands of dollars on European flights thanks to Scott and his hardworking minions. It's also saved me loads of time. Time I could better spend teaching my pet hamster how to use the internet.
---
16. Rick Steves Best of Travels in Europe (2001)
Rick Steves, or Uncle Rick as he's known around my house, isn't shy about spreading his content far and wide. He's famous for producing and distributing his award-winning show for free on PBS. His shows from 2001-present are also available on YouTube and Hulu.
But you know what's not readily available? His shows from the 1990s. Don't worry, I found them on Amazon. Available on DVD and VHS (should you be so lucky), this "best of" box set is one of two available right now on Amazon.
Steves isn't everyone's cup of tea. That's okay. I too find him a bit hokey and overly focused on tour-guide traveling at times, but I respect his trailblazing efforts to get Americans traveling abroad. And I admire his work ethic, business savvy and positive attitude. Watching these old shows, throwbacks to my youth when I first watched Steves on PBS, stirs up the nostalgia. Plus, it's just plain fun to see how much European travel (and fashion) has changed in 25+ years.
---
17. European Map Ornament
After reading the first version of this gift guide in 2018, my mom's disappoint was palpable…and verbal: "What kind of second-rate holiday gift guide doesn't even include a single decorative tree ornament?" Sorry, mom. Here you go.
---
---
European Gifts for Oenophiles
---
22. Moleskine Wine Journal
When I was young, aimless and very happy, I worked a wine harvest in Napa and Sonoma, California. Besides learning a whole new arsenal of Spanish curse words, I discovered that it takes a lot of cheap beer to make expensive wine.
The winery's blender — a virtual God of the label who walked around the co-op like Julius Caesar after the conquest of Gaul — would polish off a sixer of High Life before noon. While also tasting and blending wine for hours. After tasting more wine and checking vats for a few hours after lunch, she'd then go pick up her kids from daycare. In a car. After that, the real drinking began.
---
23. Opinel Wine & Cheese Knife
Is it just me or does wine and cheese taste better outside?
---
24. Vapur Collapsible Wandervino Flask
Yeah. These two models know what I'm talking about.
---
25. Murano Art Deco Wine Charms
The same neighbor responsible for bringing me THISCLOSE to my truffle destiny happens to be a professional glassblower. He trained in Europe and last year went to Murano — an island in the Venetian Lagoon famous for its glass art — for a weeklong class. He makes amazing stuff. Check out his work here. Is this a transparent attempt to curry favor with the owner of my soon-to-be truffle hunter? Perhaps. But the real takeaway here is that I shall have my precious truffles one way or another.
---
26. Roscioli Italian Wine Club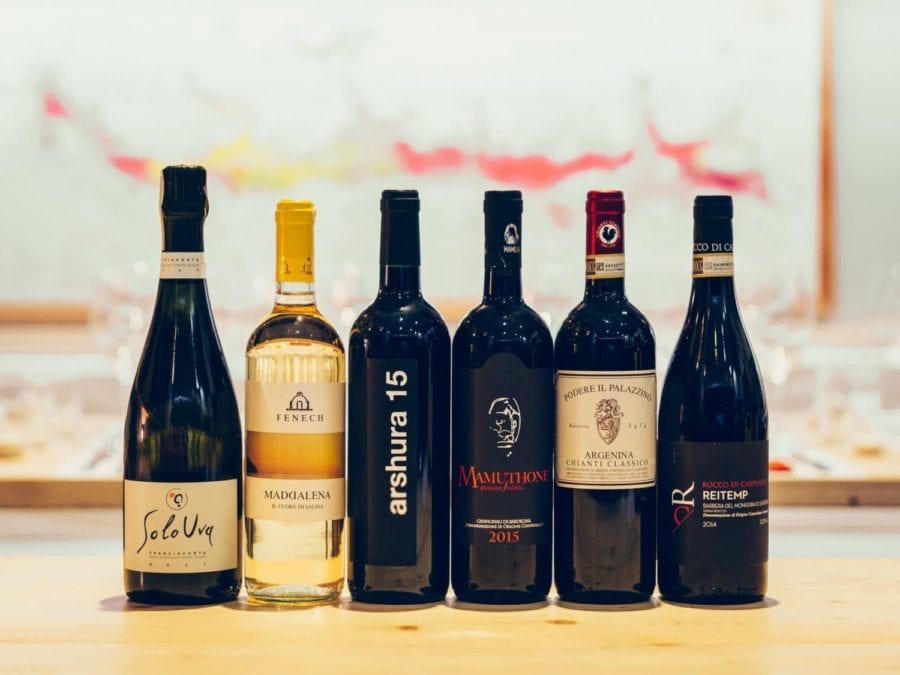 The family and I met my parents and my brother and his wife in Tuscany one summer. We created a daily competition around who could find the cheapest, yet still drinkable wine. The competition ended when my wife came home from the grocery with juice boxes of wine, complete with attached straws. We all lost.
---
European Gifts for Beer Drinkers
---
27. The Perfect Pint: A Beer Lover's Handbook
Did you know Spain recognizes approximately 8,000 different sizes of beer? Not types of beer, but sizes of beers. Depending on where you are in Spain, you may encounter: un tubo, una caña, una botella de cerveza, botelín de cerveza, un doble, una copa, una jarra and una pinta. That's not even all of them and it's already far too many sizes of beer-delivery vessels. The British, on the other hand, have precisely one. And it's called the pint. Carry on.
---
28. The Lantern Tankard
Did I just say the British have one size of beer?
Yes.
Well, then, what's this Lantern Tankard?
Although it appears larger, it holds one Imperial pint, or 20 ounces.
Oh.
Also, am I the kind of beer snob who insists on always pouring canned beer into a glass?
Why, yes, yes I am.
Am I done answering my own questions?
…
---
29. uKeg Pressurized Growler
I love filling up my growler at the local breweries (which outnumber the traffic lights in my little mountain town). But I can't a drink a whole growler by myself. And by "can't," I mean my wife won't let me. And there's nothing worse than second-day flat beer, except no beer at all. Enter this thing.
---
30. Belgian Beer Box
During a two-hour train layover in Brussels, I hoofed it to the famed Poechenellekelder for a swift nip of Belgium's finest. I hurriedly pointed out a saison to my waiter. Side-eyeing me, he asked if I was sure, really positively sure, that's the beer I wanted. Yes, yes of course it is, I replied. (Read #2 above if you haven't already.) With about 30 minutes left until I had to walk back across old town to catch my train, the waiter placed a magnum-sized bottle on my table. And you better believe I polished that thing off, before stumbling and burping my way to the train station just in the nick of time.
---
European Gifts for Adventurers
---
33. Manduka Travel Yoga Mat
The older I get, the more I appreciate the little things, like a hot cup of coffee on a cold winter's morn, the way the fall light hits the Aspens in my front yard and a straight spine.
---
34. Explore Europe on Foot
"By simply taking advantage of what the trail put in our path — from ancient ruins in Turkey to harvest festivals in Bavaria — we found each day filled with more interesting experiences and Rick-Steves-eat-your-heart-out, only-tourists-around moments than we'd ever experienced through traditional tourism."
---
European Gifts for Linguists
---
35. Lingo Playing Cards
In Rome one summer, after a huge morning at the Colosseum and Palatine Hill, the wife, boy and I played cards all afternoon under some lovely shade trees in a pocket park beside the Tiber River, sipping beers, sodas and snacking on nuts. It was divine, and the memory of that afternoon is seared in my mind as clearly and more wistfully than the entire morning we spent among the ruins.
---
36. Babbel
So, there's clearly a solution to my linguistic difficulties thrice mentioned above. I just can't put my finger on it.
---
European Gifts for Readers
---
39. Kindle Unlimited
Anything that has "unlimited" in the name must be good, right? Like salad bar, breadsticks, refills, crab legs…Anyone else suddenly hungry?
---
40. The Neapolitan Novels
"Outside was worse than inside, everything was moving and shouting, we were assaulted by rumors that multiplied the terror. Red flashes could be seen in the direction of the railroad. Vesuvius had reawakened."
---
41. Lagom: The Swedish Secret of Living Well
"Not the middle. Not average. Not complacency. Just right.
And that distinction remains the underlying power of lagom as the basis for achieving an optimal lifestyle where one gives and receives in equal part without disturbing the balance between individuality and group dynamics."
---
LIKE FREE BOOKS? Get a free Paris ebook when you subscribe to my free, monthly email newsletter, EuroExperto. Subscribe here!
---
42. Walking to the End of the World: A Thousand Miles on the Camino De Santiago
"What I was missing was a life that felt real. I was here because the Camino, with its thousand years of history, felt real."
---
43. Oil and Marble: A Novel of Leonardo and Michelangelo
"No one knew what the future held for Leonardo. Only one thing was certain: the Master from Vinci needed to find a new home, a new patron, a new life, and a new legacy."
---
44. Villa des Violettes Novels
"Everything was going so well in Kat and Philippe's life together. Then suddenly it wasn't.

Roman ruins delayed the work on the Villa des Violettes. The Russian drug gang might be back in the neighbourhood. On top of that, Kat had worked herself into what Molly classified as a full blown "Christmas conundrum." Kat wanted the holidays to work perfectly as she blended a Canadian Christmas with a Provençal Fête de Noêl for the first time in their new home. Now she'd lost her confidence and, with it, the holiday spirit.

Philippe hoped a weekend trip to the famous Christmas markets of Strasbourg would solve everything."
---
European Gifts for Families
---
45. Go Happy Travel Tray
Do you know what I never, ever want to see? One of those germ and body-substance detecting infrared lights used on an airplane. I don't care how clean airplanes are now. NEVER. EVER.
---
46. Bringing Up Bébé: One American Mother Discovers the Wisdom of French Parenting
"I hadn't thought I was supposed to admire French parenting. It isn't a thing, like French fashion or French cheese."
---
47. The Road Taken: How to Dream, Plan, and Live Your Family Adventure Abroad
"Maybe by breaking down the conceptions of what mainstream society expects of families, I could empower parents to write their own story."
---
When you're ready for Europe…

Order today: https://amzn.to/3hU2Iso
This post contains affiliate links in which I'm paid a small commission if you make a purchase.