I plunged into the turquoise Adriatic Sea. Its crisp waters provided welcome relief on another 90-degree day in Croatia. My eyes scanned the sea bottom as I swam below waterline toward the first buoy. To my left, cut and dressed blocks of white granite and volcanic tuff form a perfect rectangle six feet below the water's surface. It's unmistakably handmade; I bit the snorkel's mouthpiece and dived toward the underwater Roman villa for a closer inspection.
Brijuni Island sits 1.25 miles off the Istrian Peninsula's west coast. Once home to Yugoslav dictator Tito's holiday residence, where he vacationed up to six months a year (it's good to be king), Brijuni is now a car-free national park popular with daytrippers from Fažana. Brijuni has miles of bike paths, several pebble-sand beaches, hidden coves, dinosaur footprints, a strange zoo housing the descendants of Tito's personal pets and one particularly interesting experience, the main reason we're here — the opportunity to snorkel with Roman ruins.
My wife, son and I pedaled the blue beach cruisers to the paltry wooden shack by the seashore, where our tourist brochure promised we could rent snorkel gear and waterproof headphones. A sign hung outside the unmanned shack informing visitors to call a number for service. Fifteen minutes thereafter, two surly men driving an electric golf cart nosed up to the shack's front door. Lit cigarettes dangled from their lips as they grunted at us. They hadn't shaved in days and wore scruffy blue Brijuni National Park polos. We paid and signed waivers, and the begrudged workers, who clearly preferred their air-conditioned office, handed us snorkels, masks, fins and waterproof headphones, snorted goodbye and sped away as they lit fresh cigarettes.
Left to our own devices, with no written or verbal instructions, we fiddled with the headphones and snorkels until they fit and produced audio. A dozen buoys marked the Roman villa's submerged remains, each buoy station synced to an audio guide that leads snorkelers along the 100-yard liquid route. My wife and son soon frolicked in the Adriatic like dolphins, swimming from buoy to buoy, and exchanging astonished tales.
"Did you see that column? Amazing!"
"Oh, that's the fishery, and that's where they salted their catch. Cool!"
Meanwhile, my headphones refused to cooperate. They switched on, but instead of the pleasant, British-accented female voice caressing my loved ones' auditory canals and informing them about the wondrous ruins beneath us, a furious German woman roared into my headset. Other than ordering beer, I speak no German. No matter which buttons I pushed, the language settings didn't change and entirely disrupted the sync, forcing me to retreat to earlier buoys attempting, in vain, to jibe the audio. Eventually, I swam ashore and ditched the stupid headphones. I bet those two smarmy, paunchy workers were laughing their air-conditioned asses off while telling their equally surly coworkers about how they'd dumped the German audio guide on an unsuspecting American.
Despite the setback, snorkeling among Roman ruins, even if I didn't get the full backstory (in English), was an experience I'll never forget and for which my family will never cease making fun of me. I can still hear the German woman's roar! Once upon a time, this self-sufficient Roman outpost operated as a mini-country, with slaves, workers and Roman gentry eking out an existence on a neglected, inconsequential archipelago. The bay has risen several feet since Rome's heyday. Villa ruins sit on the shoreline, but the tannery, salting tubs, fish farms, stone port and outdoor baths lie beneath the encroaching Adriatic. We swam above the cobbled maze, gulped big breaths and dived to the villa's working buildings, our faces within inches of the underwater slabs.
Between this summer's heat waves and lack of travel, I daydreamed about this trip often. It got me wondering, where else could I swim with Roman ruins in Europe? Here's what I found.
What Do I Need to Swim with Roman Ruins?
The only requirements for swimming among Roman ruins (or, heck, Greek ones) are a bathing suit and, of course, swimming ability. An open mind and sense of adventure helps, too. At most sites, travelers can rent snorkel gear and join tours with equipment provided, so don't lug gear for one or two swims. Scuba divers should consider the intriguing dive options at the Sunken City of Baia, Italy and Epidaurus, Greece. Swimming with underwater Roman ruins is an unforgettable experience, and the perfect punctuation to any Europe trip.
Villa Ruins, Verige Bay, Brijuni Island, Croatia
My experience notwithstanding, Brijuni's "Underwater Educational Trail in Verige Bay" will mesmerize you. The rest of the island? Not so much. Brijuni's Roman villa spans the bay with building foundations visible on the high ground (bottom right in above picture) and the waterside docks and working areas under 3-15 feet of water (top right in above picture).
Info: np-brijuni.hr/en/plan-your-visit/sports/scuba-diving
Apollo Pools, Hierapolis Ruins, Pamukkale, Turkey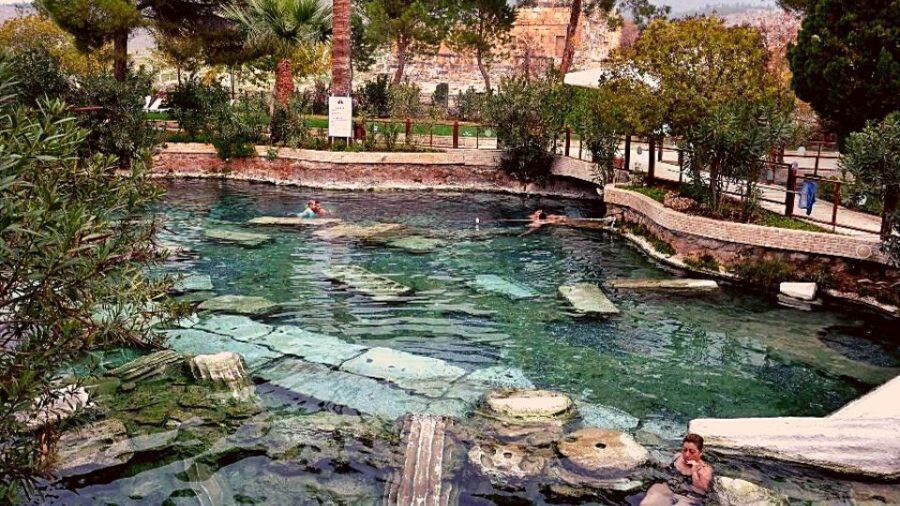 Among the 2 BCE Hellenistic ruins of Hierapolis sits the Antique Apollo Pools, otherwise known as Cleopatra's Pools. Open April through September, these thermal springs of Apollo (or Cleopatra) contain numerous ruined columns and marble slabs that fell from the adjacent Temple of Apollo into the manmade pools during an earthquake in 7 CE. The dual-name comes from a legend claiming Cleopatra once swam here. Nowadays, tons of tourists do, so arrive early.
Info: pamukkale-turkey.com/cleopatras-pool.html#.YTpN-dNuc-S
Pont Du Gard Aqueduct, Occitanie, France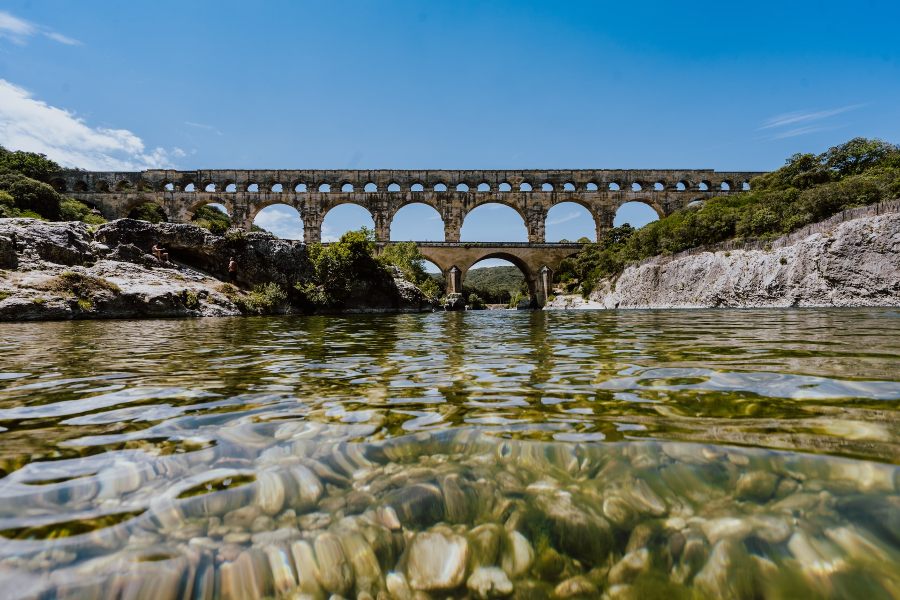 Southern France's iconic, 158-feet-tall Pont Du Gard aqueduct begs for swimming. On a hot summer day, rent a kayak, spread a towel on the River Gardon's sunny banks and dip into waters that have flowed under this magnificent example of Roman engineering since 1 CE.
Info: avignon-et-provence.com/en/monuments/pont-gard-aqueduct
Roman Villa near Epidaurus, Agora, Greece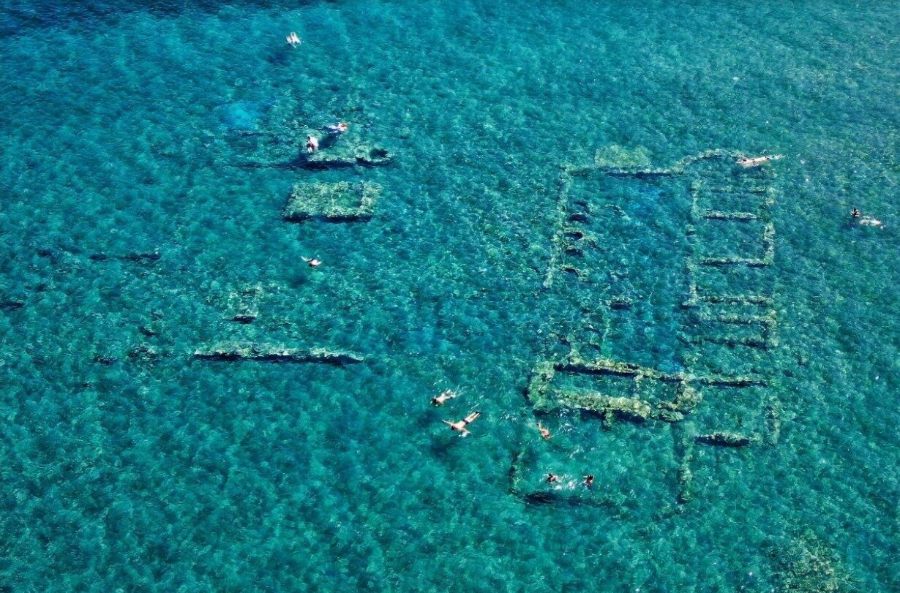 Another sunken Roman villa! Geez, someone shoulda told those Romans to back off the coastline a bit! And about rising seas, tectonic activity, etc. Unlike at other places where you can swim with Roman ruins on this list, the entire Roman villa sits underwater. The foundations, fish farms, mosaic floors and even shattered amphorae are visible.
Info: scubabluedream.com/snorkelling-in-epidavros
Sunken City of Baia, Bacoli, Italy
Two thousand years ago, Baia, like today's French Riviera, was the place for rich Romans to escape the city and indulge in sunbathed sin. Roman aristocrats like Pliny, Cicero and Virgil as well as countless emperors and merchants flocked to their summer villas at this beach-vacation destination, earning the town a debauched reputation. Then tectonic activity intervened, ending the party and sending the coastal villas to the ocean floor, making it an intact underwater city. From beginner discovery dives to open-water certification courses, the Sunken City of Baia is one of the best places for diving in Italy.
Info: centrosubcampiflegrei.it/en/snorkeling-dsd
Baños de la Reina, Calpe, Spain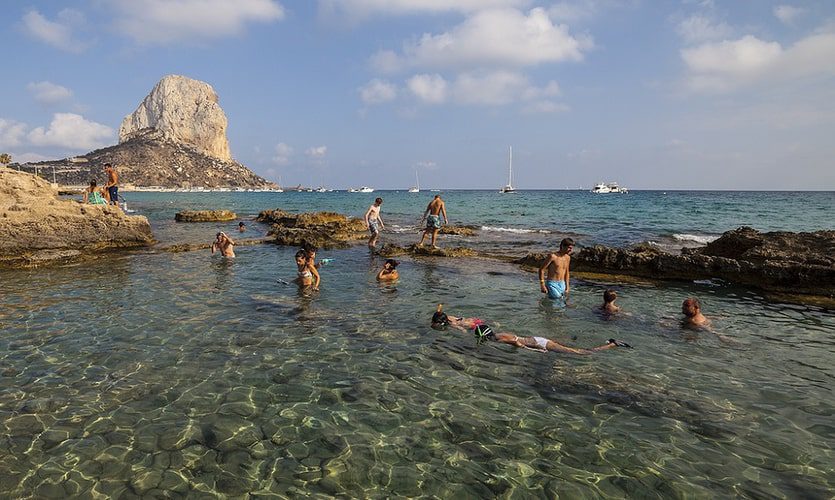 Constructed in the 1 CE, the "Queen's Baths" were home to extravagant Roman villas that operated numerous fish farms carved from the coastal sandstone rock. Additionally, natural and oven-heated thermal waters were routed through pipes into baths and spas of varying temperatures. The submerged pools and ruins are free to explore and are just 25% excavated as of 2021.
Info: calpe.es/en/discover-calpe/banos-de-la-reina-archaelogical-site
Port of Egnazia, Savelletri, Italy
Egnazia, or Gnathia as the Romans called it, flourished in the early empire years, gaining prominence for its deepwater port and strategic position along the Via Traiana. It's likely Greek settlers originally founded the now underwater city in the 13th-century BCE. However, after the Roman Empire fell, so did Egnazia's importance, leading to its total abandonment by the 900s CE.
Info: egnazia.cchnet.it
---
Have you ever swam, snorkeled or scuba-dived with Roman (or Greek!) ruins?
Let me know where on Instagram @rorymoulton