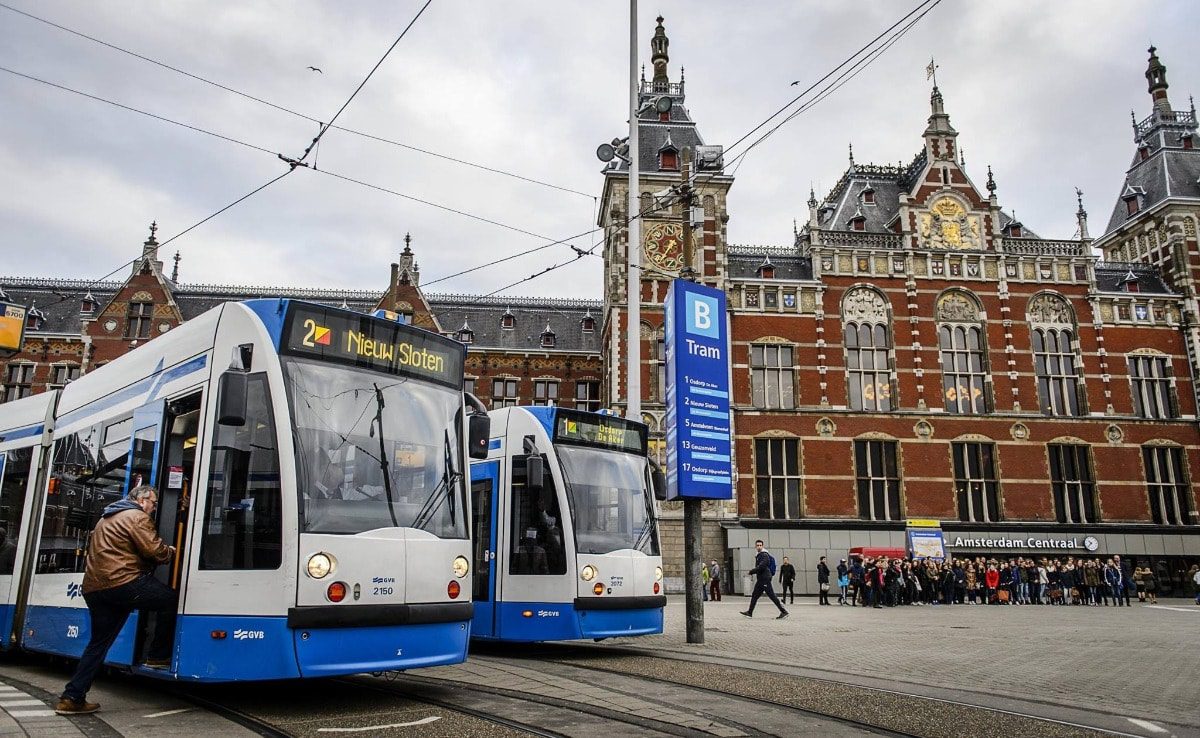 For travelers seeking a handle on how to get around Amsterdam, this transportation guide is just what you're looking for. There are many different methods of Amsterdam public transportation for you to use while you are in this town. These methods of transportation include trams, buses, ferries, cars, bicycles, motorbikes, metro and by taxi. Luckily, the GVB manages all of Amsterdam's public transportation options, so you can use a single ticket and single smartphone app to plan and ride Amsterdam's trams, buses and metro. Since trams and buses will satisfy most of your public transportation needs in Amsterdam, we'll focus on those two methods first.
Amsterdam trams
Amsterdam trams are very distinctive and by far the preferred method for traveling around downtown Amsterdam. They are blue and white in color and their well-known bell rings to attract the attention of the cyclists and pedestrians buzzing around them. From Central Station to the neighborhoods around it, the tram is one of the quickest ways to get around and into the city centre.
This a very popular way of getting around Amsterdam operates out of Amsterdam Central Station. There are two tram stations outside the front of Central Station-one on the east side and one on the west side. These stations are only a short distance from each other. The tram goes toward the city centre before it goes to various districts and neighborhoods.
Most of the people that live in Amsterdam and ride the tram purchase the public transport chip card that can be reloaded for future rides. One-hour, twenty-four hour, and forty-eight-hour tram tickets can also be purchased. The I am Amsterdam city card is very popular as well because it gives people free entry to the city's top attractions and free public transportation for as long as they are in town.
Amsterdam buses
Unlike trams that have an entrance in the front, middle, and back Amsterdam buses only have an entrance in the front of the bus. If you get on the bus in the middle or the back of the bus, you will run into people getting off the bus. The bus driver will also announce over the speaker that you made a mistake.
During the day, you will need €2.80 for an hour long bus trip. This bus fare includes any transfer that you made to need to make on any tram, another bus, or the metro. If you are still on the bus after an hour, you will have to buy another ticket. If you plan to travel on a bus on a regular basis, you can buy a one-day, two-day, or up to a week of bus fare at one time. The nighttime bus fare is €4.50.
Just like the tram, buses have the public transport chip card that you have to show when you get on and off public transportation. You put your card on the OV-Chipkaart pad until it beeps, flashes a green light, and tells you " Goede Reis." You must also know that every bus has reserved seats for the disabled, elderly, and pregnant women. They are always in the front of the bus and may be covered in a special fabric. If you do not fit into one of these groups, be sure to move when one of these people get on the bus.
When it is time for you to exit the bus, be sure to exit through the middle or back doors. You will be preventing people from getting on the bus if you exit through the front door. Don't forget to scan your ticket on the grey OV-Chipkaart electronic pad. A lot of people ride the bus when they are going under the Ij river to the Amsterdam Noord. Many people also ride bus number twenty-two when they want to go East to West via the city center, while the majority of people are waiting for a ride home after an evening on the town. Riding the bus can be very helpful if you want to take a day trip outside of town or for another way to get to Amsterdam Schiphol Airport.
Alternate modes of transportation in Amsterdam
Bike cab or rickshaw: If you believe in getting around Amsterdam the environmentally friendly way and indeed the local way, then a bike cab or rickshaw is the method of transportation for you. They are clean, rather cozy, and can move rather quickly down the cobbled streets of Amsterdam. They are also fully insured. You can find one easily throughout the town, especially near Centraal Station, Leidseplein, Museumplein, and Waterlooplein. You can also reserve one in advance by contacting Amsterdam Bike Taxi. The fee for the bike cab is 30€ for every ½ mile that you ride in it.
Amsterdam Metro: Amsterdam has a metro system with five lines. They run partly over ground to transport commuters in and out of the suburbs. It runs from 6AM to midnight every day. From Centraal Station, you can take a metro train to get to both Nieuwmarkt and Waterlooplein in the old city center.
Ferries: The ferries are free for people and two-wheel transportation. This mode of transportation is an ideal way to see the beautiful views of the harbor. The ferry has four routes that go throughout the town.
Taxi: You can often hail a taxi throughout the city of Argentina. Thetaxiesre also many taxi stands throughout the whole city at places like luxury hotels and at major squares around the town. They have signs on their roofs and blue license plates. If you are staying in a hotel, the staff of the hotel can call a cab for you.
Car: Amsterdam is a town that does not have ample parking spaces. Therefore, it is a good idea for you to leave it at home or save it for day trips into the country. In the suburbs of Amsterdam, there are plenty of park and ride options with a rate of 8€ for a twenty-four hour period. There are four of these park and ride areas on the north side of town that are close to public transport facilities. For those of you that have to park in town, there are 14 centrally designated car parks. The ones that are most beneficial to tourists are Waterlooplein 8 or Beursplein 15 and their fee is 2.50 € to 5 € for one hour.
Since there is limited street parking in town, it is not a good idea to park on the street. The Cition watch for the smallest parking violation and they will tow your car for it. The parking ticket fee is 420€ and they do not take cash payments. If you have the unfortunate experience of being towed, you can find your car at Daniël Goedkoopstraat 9 and their daily hours of operation are 7AM until 11PM.
For all of these reasons, using public transportation is the best way to get around Amsterdam. Also, the majority of the tourist attractions are close enough together for you to walk to them. In addition, the streets are narrow, a lot of them are one-way streets, some have a lot of pedestrians on them, and many have bicyclists everywhere. If you do plan to drive out of town, there are rental cars that you can get. It is best to rent the vehicle online before you leave home. The rental car companies are Avis, Budget, Enterprise, and Hertz.
While you are visiting Amsterdam, there are many ways for you to get around Amsterdam from the bus to a taxi. No matter where you want to go in town, you will never be without the transportation to get you there.
Get more indispensable Amsterdam advice in Rory's forthcoming book, 53 Amsterdam Travel Tips.